Minot Air Force Base, N.D. —

The weather isn't the only thing heating up this summer. The Minot Air Force Base innovation cell, also known as Atomic Spark, the IGNITOR working group and the 5th Contracting Squadron partnered with the 54th Helicopter Squadron, maintenance and security forces units from the 5th Bomb Wing and 91st Missile Wing to bring another innovative solution to Team Minot.

"Innovation can start with any Airman; they are the subject matter experts and know how to solve the problems," said Capt. Matthew Matuszak, 91st MW director of Atomic Spark. "Atomic Spark helps refine and elevate the Airman's idea so that it can be seen by a decision maker."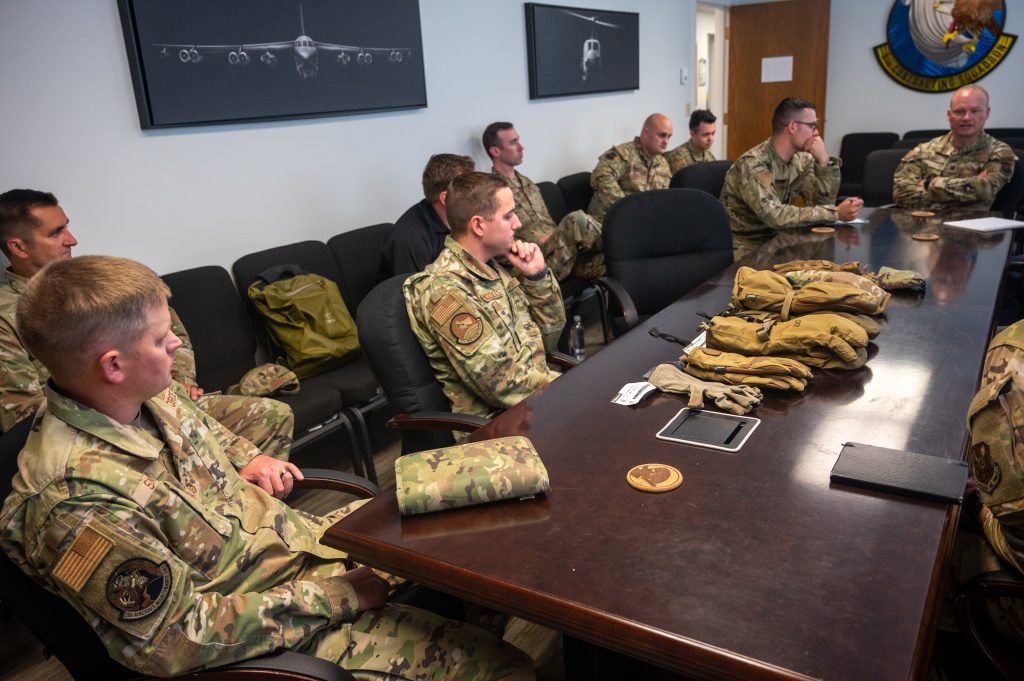 Atomic Spark is an agency that accelerates grassroots innovations within Minot, providing both a voice and conduit to turn powerful ideas into operational capabilities. What is the newest innovative solution brought forward to the cell? Gloves.
With frigid winter temperatures that can reach 50 below zero, Airmen working outdoors are exposed to extreme weather. This makes gloves an essential item in the winter. The standard-issue gloves currently used by many Airmen may protect them from the elements, but don't offer the dexterity and movement needed to perform some duties more easily. A custom heated glove was identified as a potential solution by the 54th HS during a recent IGNITOR outreach project with their unit. This is because no glove that was commercially available offered the right amount of dexterity, comfort and warmth the squadron was looking for.

"You can't effectively employ your weapon system or the hoist if you can't feel your fingers in the winter," said Staff Sgt. Mathew Brown, 54th HS flight engineer. "The previously-issued version had some limitations, so it was determined that an improved glove was needed."

These issues were brought to the IGNITOR group, a working group whose goal is partnering with Team Minot units to identify feasible contractual, facilities or process improvement solutions to tactical problems.

The group saw the need for a custom heated glove opportunity that spanned several career fields across both the 5th BW and the 91st MW. Atomic Spark brought the idea for custom heated gloves to base leadership and assisted with drafting the required documents to request innovation funds at the Air Force level. As a result custom heated gloves are now being developed to not only help Airmen assigned to the 54th HS, but all base personnel working in extreme weather conditions.

"It can be difficult to get good training in ambient temperatures of 20 below zero or lower if you're only thinking about how cold you are, so anything that can help you focus on the task you're accomplishing in the aircraft only makes you and your squadron better," said Brown.

Team Minot's custom glove proposal was selected by Gen. Brown, Chief of Staff of the Air Force, as the recipient of a portion of his Momentum Innovation Fund. The next step in the process involves 5th CONS soliciting and awarding a contract for gloves to be delivered to the base prior to winter for the Airmen that need them most.

"This is something we began with the help from IGNITOR," said Matuszak. "Basically, IGNITOR takes a problem statement and we work with the unit, as we have multiple different avenues for acquiring new technology or creating a custom solution."

The award winning Atomic Spark and IGNITOR teams at Minot AFB have shown no signs of stopping their streak of innovation, having acquired over $45 million in Small Business Innovation Research funding in just under two years. These funds allow Minot AFB to identify small businesses that can provide solutions to the warfighter in a faster, more efficient manner.

"Atomic Spark is critical to Team Minot's innovation goals, having been extremely successful obtaining Department of Defense innovation funds," said Lt. Col. Stephen Kroft, 5th CONS commander. "The partnership between Atomic Spark and IGNITOR has been a key factor in turning Team Minot into a hotbed for innovation."

With more than 40 projects currently in the works amongst both Atomic Spark and IGNITOR, Team Minot Airmen are not short of new ideas to improve the Air Force. Custom heated gloves won't be the last innovation coming from Minot AFB as Airmen work hard to improve not only the base but the Air Force as a whole.

If you are a Team Minot Airmen who wants to accelerate change with an idea, you can get in contact with the Atomic Spark directly at Atomicsparkminot@gmail.com. If a unit commander would like to partner with IGNITOR to identify viable contractual, facilities, or process solutions for your tactical problems, please contact Lt. Col. Stephen Kroft at stephen.kroft@us.af.mil or the IGNITOR Program Manager, Master Sgt. Samuel Lopez, at samuel.lopez.4@us.af.mil.