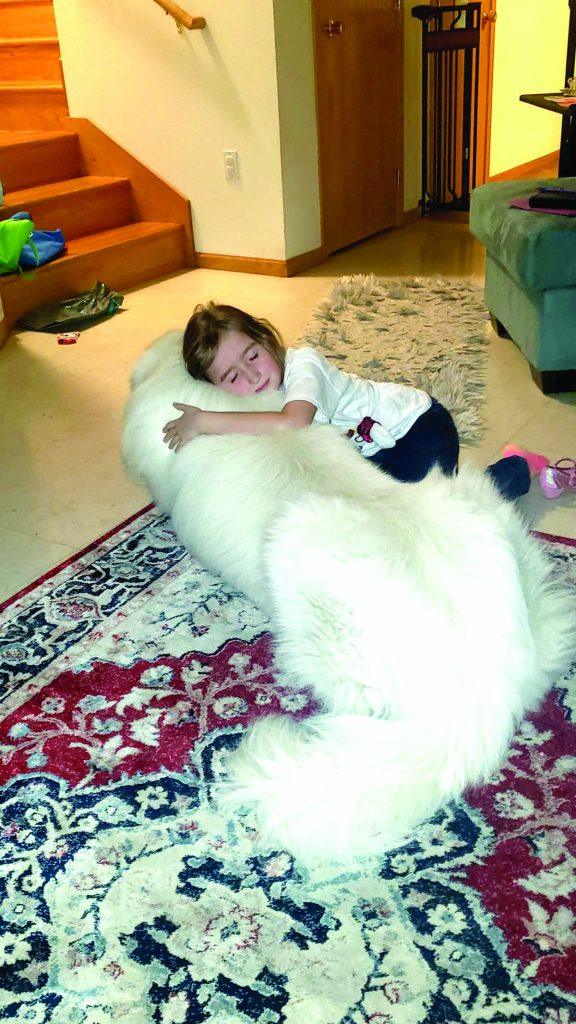 When you have someone who constantly makes you happy. The one you can lean on and always makes you smile. For me, that is the best. For me, that is my dog!
He is very big and white all over. He likes to sleep on the carpet; I like to lay on him! His fur is so soft and fuzzy. He gives the best warm hugs! Kodi makes the family even better by always being there for us. Protecting us is his job like chasing away strangers who might give us harm. My memaw says, "Kodiak is a Great Pyrenees, a large breed guardian. They imprint on what they are raised with and once they imprint, they consider you family and will protect you with their life." Have you ever heard a bark so strong it echoes over the whole neighborhood? That would be my boy!
Even though he is older than me, he has only been with us for about half of my life. My mom says, "Actually more than half! We adopted Kodi into our family when you were about two years old. Your father had just returned from his first deployment and our family grew by four paws!" We lived in Virginia and had a good time. We played outside together all the time! Sometimes we played tag. Kodi likes to run around a lot, and I like to chase him. We always like to be together. My family even took him to the beach now and then.
We thought he would be scared to move to North Dakota but he's just happy to be with us. He seems right at home with the wintery weather and even blends in with the dusty white snow! Kodi is playful when he is in the snow. He romps around and rolls in it like he's making a pup-angel. He looks so silly when he's covered in snow!
I love him a lot! I feel great inside when he is with me. When I snuggle Kodi, it makes me happy. Everybody needs a friend like my dog. Kodiak and I are best friends.