During National Pharmacy Week, Minot AFB recognized the invaluable contributions pharmacists and technicians make to patient care. Introducing your Pharmacy team and two new initiatives they have to connect the needs of their patients with the pharmaceutical industry!
ScriptCenter Locker
Located in the AAFES BX, the 5 MDG Pharmacy's ScriptCenter offers a new secure, convenient, and private way to pick up your refills! Accessible to all beneficiaries during normal BX hours (after duty hours and on weekends) this feature can be utilized by calling the refill line at 701-723-5052 and selecting "ScriptCenter Kiosk" as your pickup location. This service is available to all beneficiaries to include PRAP and AUoF personnel.
ScriptCenter Refill Schedule:
Refills placed 1200 Monday – 1159 Thursday will be ready 0730 Friday.
Refills placed 1200 Thursday – 1159 Monday will be ready 0730 Tuesday.
*Remember to bring your prescription number the first time you utilize the ScriptCenter for enrollment into the system.
**Not available for refrigerated medications. Refrigerated medications must be picked up at the clinic pharmacy.
***Refills not picked-up after 10 days are returned to the main pharmacy.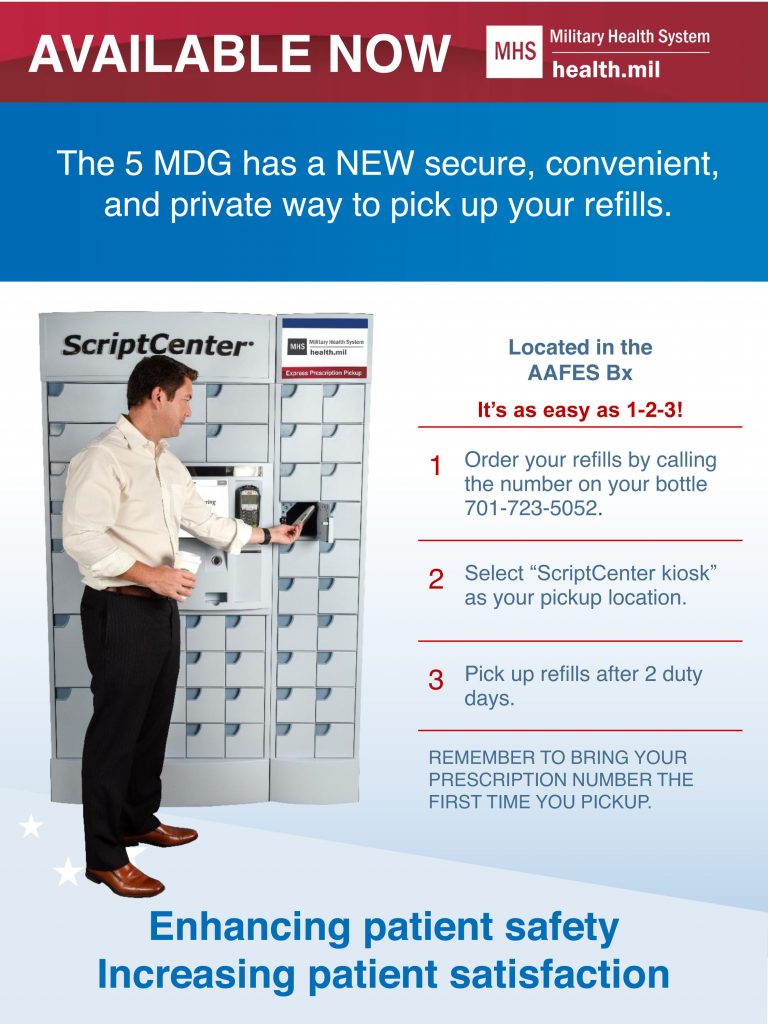 DosePharm Prescription Activation Pilot Program
The 5 MDG Pharmacy is piloting a prescription activation app to help the efficiency of pharmacy operations and provide more convenience to their patients.