One complaint, and often a stressor, that is sometime felt amongst new Minot AFB transplants is that it can be difficult to find their "niche" and tribe in a new place. Starting over is tiring. Finding new friends takes a lot of commitment and time. It can be very tough for families and Airmen alike. Sarah Girven, an Air Force spouse for over 20 years, knows this feeling all too well. She and her family have moved over 9 times and she can relate to the dread that often comes with starting over yet again. Because of this military-induced difficulty, Sarah has found a way to meet friends, embrace her passion and speed up the feeling of being "at home" at any PCS location. How does she do it, and how can you too? A little something called Women Who Explore.

Women Who Explore is a nationwide community of women who gather together to explore the great outdoors through camping, hiking, fishing, backpacking—really anything in nature. There are chapters all over the United States. Sarah, although new to the area, has taken on the task to create the North Dakota Chapter to help bring women of all ages, strengths and abilities to enjoy nature in new ways. According to the WWE website, https://womenwhoexplore.com/mission/, the community exists as a place for women to break barriers and rewrite rules. They say, "From the beginning, our mission has been to create a safe space for all voices, all bodies, all skill levels, all journeys. We bring together women who share a passion for adventure, and love for this planet. Our experiences inspire unforgettable memories where strangers become friends. We invite you to join us on an adventure to discover new skills and most importantly, yourself." One of the cool things about WWE is that there are no fees or group dues to pay. Group leads, like Sarah, simply volunteer their time to organize and plan trips around their locations for anyone who wants to join. The trips can vary from day hikes to week-long backpacking and canoe adventures. Participants will need to pay for their own travel and costs associated with the trip, but Sarah tries her absolute best to keep trips affordable (some only $10) as she wants to give as many people the opportunity to embrace the outdoors as possible.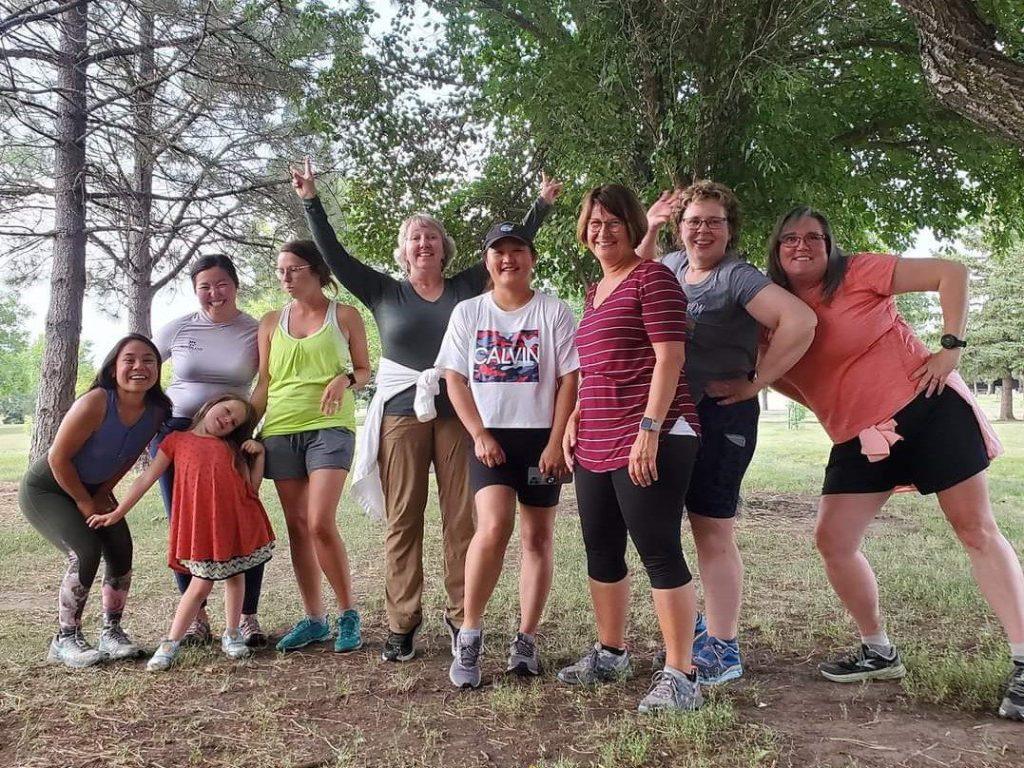 Sarah has participated in WWE for several years and her obsession for exploring the outdoors began at a young age. She always wanted to go camping but had a difficult time finding other women who would go with her, and her parents said she wasn't allowed to go with boys alone. While Sarah understood, she wanted to find a way where women could feel empowered to learn about the outdoors and explore while being safe and without relying on a man all the time. So when she discovered Women Who Explore from some friends, she was all in. Sarah said, "We were about to PCS from New Mexico to Las Vegas, so I became a member and started hiking with them [WWE] as soon as I arrived. I quickly realized that there was a lot of untapped potential in the Las Vegas area. I was offered the position and hit the ground running." She also is passionate about getting women to do something for themselves and challenge themselves. She said, "Oftentimes women put their priorities last. These trips are a chance for them to not worry about being a mom or spouse. It is for them to learn and grow together without judgment." Sarah explained that each trip can be what you want it to be. She also mentioned that new explorers don't need to go out and buy gear or worry about not having it. She herself has plenty to loan out and is happy to help people find what they need affordably.

Here in North Dakota, Sarah has wasted no time in getting the local group organized and puts together local hikes at least every 2-3 weeks and trips every month. This group is for anyone—young or old, experienced or brand new—that wants to get outside and meet people doing it! If this piques your interest, there is more information about this group on their Facebook Page, Women Who Explore: North Dakota. Participants may find out all the specifics of each specific trip or hike and can register right online.
Here is a quick overview of some of the upcoming events:

Theodore Roosevelt National Park North Unit Camping and Hiking Weekend (September 8-11): Camping at the Juniper Campground group site and hiking and exploring the whole northern unit each day. $10

Denbigh Experimental Forest Overnight Backpacking Trip (October 15-16): This hike is designed for beginners but open to all experience levels. We will hike in two miles on Saturday, camp overnight, and then hike two miles out on Sunday. $ Free

Fort Ransom State Park Weekend Getaway (Nov 4-6): Staying overnight in the historic Bjone House for two nights. Then we will be hiking, mountain biking, and kayaking in the park throughout the weekend. $32

For those interested, Sarah encourages active duty and civil service women as well as spouses to get out and try it! Embracing the natural beauty can bring joy and happiness to any Air Force assignment. Sarah would love to speak with anyone curious about the program or answer any questions at her email sarahgirven@hotmail.com