Hawaii anyone? Ok, Hawaii is a dream location for many Air Force families. Besides the enviable crystal beaches, sunny skies, and year-round moderate weather, what else should people be prepared for when getting an assignment to Joint Base Pearl Harbor-Hickam in Honolulu, Hawaii? Lauren Shields explains what she and her family LOVED about their experience there and what to expect from the assignment besides the sunny skies and vacation vibes.

The Shields family was stationed at JBPHH from 2016 until 2019. Their family at the time consisted of Lauren, her husband Chase, 891 MSFS, and their two young boys. When asked what she and her family originally thought about getting the assignment, Lauren said, "We were going into our 2nd year stationed at McConnell AFB in Wichita, Kansas (that's a great base as well!) and had originally planned for a 3- to 4-year assignment there when my husband got a call from his commander saying they were in need of someone to work at Pacific Air Force (PACAF) Headquarters and if he wanted to volunteer to take it. Chase was going on his 4th year in the military and we had NO idea where PACAF Headquarters was, but he wanted to seem willing to volunteer and take on any challenge so he said yes!" Lauren was really open minded and curious about living in this so-called paradise and was extra pleased when she found out the chatter was more than true and the experience was even better than expected. Lauren admitted that while the surroundings are gorgeous and it is like living in a dream, it was also the people that made her decide that this was her best base. She said, "Yes, it is beautiful and there is so much to do, but we are also military families thousands of miles across the ocean from family. Because of that, I think the friendships made were solid and unwavering, which I still treasure to this day."

Like many seasoned military families, Laruen understands that every base is what you make it, and focusing on the negatives will only lead to years of unhappiness. She said, "Whatever base we have gone to, I always try to go in with a positive outlook, regardless if it is the frozen tundra of Minot or the beaches of Hawaii! I went in with a good attitude and ignored the negative comments from others to try and make my own experience there. If you are fortunate enough to be stationed at Joint Base Pearl Harbor-Hickam, I encourage you to soak in all the activities available (No, you don't have to hit tourist spots or pay tourist prices to do the same activities they do!) and build an Ohana that will support you and your family as your home away from home."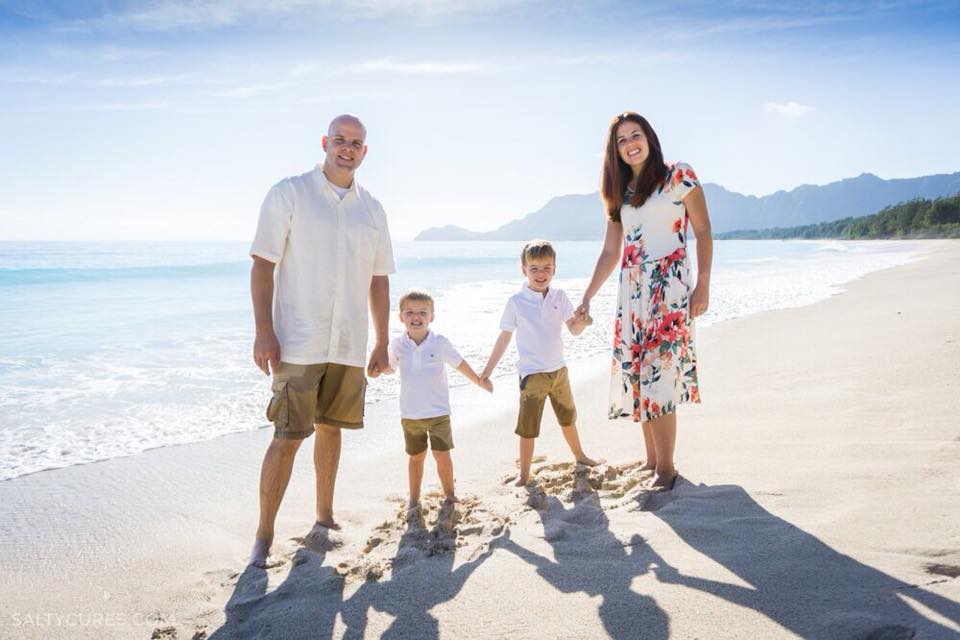 Lauren's TOP 5 Reasons that Joint Base Pearl Harbor Hickam AFB was the BEST Base:
1) It is a JOINT base with the Navy, literally connected together. This joint relationship was great, not only to expand my perspective of the military family experience but there are also a plethora of things to do that the Navy puts on. You can live in authentic military housing right next to Pearl Harbor, watch fireworks on the Battleship Missouri Memorial on the 4th of July, take a private tour of Pearl Harbor by boat with your servicemember, and tour battleships that come in from all over the world for RIMPAC, which is a huge maritime exercise.
2) Local Hiking. My husband and I aren't a huge fan of crowds and were concerned about exploring the island and running into tourists everywhere. We learned quickly, from local Hawaiians and fellow military, about lesser-known hiking trails across the island. We did at least 30 different hikes while we lived there and hardly ever had to worry about congested hiking trails. It led to some breathtaking photos of the island and great family time!
3) Island Hopping! While Pearl Harbor-Hickam is on Oahu, known as the "Gathering Place", a very fitting name for the most popular vacation spot, there are also 6 other Hawaiian islands, five of which are open for visitors. We were fortunate to visit two other islands: Hawaii (famous for its lava caves and Volcanoes National Park) and Kauai (known as the "Garden Isle" and beautifully covered in green). All the islands are very different from each other and make for great weekend adventures!
4) Base Amenities. One of my favorite spots on the entire island was the running trail right on Hickam Air Force Base. The trail runs right along the entrance to Pearl Harbor and, on any given day, you could watch seals and dolphins swim into the Harbor, or watch massive battleships and submarines exit into the open ocean. It was the most beautiful sight and I felt one in a million being able to watch it every time I ran.
5) The Beaches! While there are several well-known beaches on Oahu, such as Waikiki and Makaha Beach, there are beautiful beaches for military members and their families all over the island. One well-known one is Bellows Beach on the east side of the island. We would enjoy staying in their beachside cabins in April to wake up before sunrise to watch the baby turtles dig out of the sand and head to the ocean to avoid hungry birds. It was a memory my kids and I will never forget.