Let's start with the basics; what is a "Defender" anyway? It is one of those terms that gets thrown around the Air Force frequently. A Defender refers to any Security Forces member, either working on base or in the missile fields. You know the people walking around with the berets? Those are the Security Forces members (AKA Defenders). Defenders are the ones that keep the base safe. They are seen at the gate, driving around base and helping out in emergencies. They want to keep everyone protected and well-informed so, through some innovative ideas, a new position and concept was created to bring the housing office and the community together. Meet the brand-new Community Defender (also known as the Police Liaison), SrA Hannah Donovan, from the 5th Security Forces Squadron.

A few months ago, TSgt Montie Butler and TSgt Samuel Gonzalez, both 5 SFS, were talking with other members of their unit about how they overheard people on base talk about SF as the bad guys that are out to get them. While this attitude is not unique to this base, Butler and Gonzalez started to think of a way to change that perception. Butler really wanted to let the base community know that SF actually cares about the citizens and that they are there to help, not just to get them in trouble. After a discussion with their leadership, the pair initiated a meeting with Balfour Beatty (Minot AFB Homes) to see what they thought about having a "Community Defender" in the housing office to help manage non-emergency situations and be a physical presence in the community. The housing office was all for it, and just a few short months later, the position was created and brought to life.
Butler explained that this new position would be a place for Minot AFB residents to contact with non-emergency issues and questions. She said, "We are going to be setting her [SrA Donovan] up with a phone and she's going to essentially be like a call center for issues with people speeding through base or have non-criminal complaints. It will be for some of the things that people call the law enforcement desk for now. Sometimes we [SF] can't respond to these [non-criminal] things because bigger incidents are happening, but Donovan is going to be there for the community in that regard." Gonzalez also interjected that if people have questions about what is allowed on base, Donovan is a great resource. The program officially starts on September 1 and then Donovan will be available for school visitations, community involvement and questions. Butler explained that they hope this program will allow for more transparency and allow residents to feel protected and supported. Both Butler and Gonzalez want residents to feel like they now have a direct source contact. Gonzalez said, "We now have someone there as a representative for our unit who can either immediately give you an answer, or can find the correct answer and provide it to you."

When it came to finding the best Airmen to take on this exclusive and important new role, a few candidates were originally looked at, but ultimately the Defender leadership decided on SrA Donovan because,
SrA Donovan exuded positive energy and the perception that not only is she pumped to be in this new role, but she is most excited about connecting with the kids and families on MAFB to show them that the Defenders are friendly and not the "bad guys." She said, "I'm really excited to be a part of the community. I like to talk to people. I'm looking forward to having a better relationship with the residents in base housing and them getting a better idea of who Security Forces are and what we do. We're not just the ones you call when something bad happens. I want little kids to be excited when they get to see SF [vehicles] rolling by and know that we also get excited to hand out coupons for a free Dairy Queen Ice-cream when we see them wearing helmets while riding bikes. It's the small stuff like that." She wants to show off the good part and be included in the happiness of the community as well.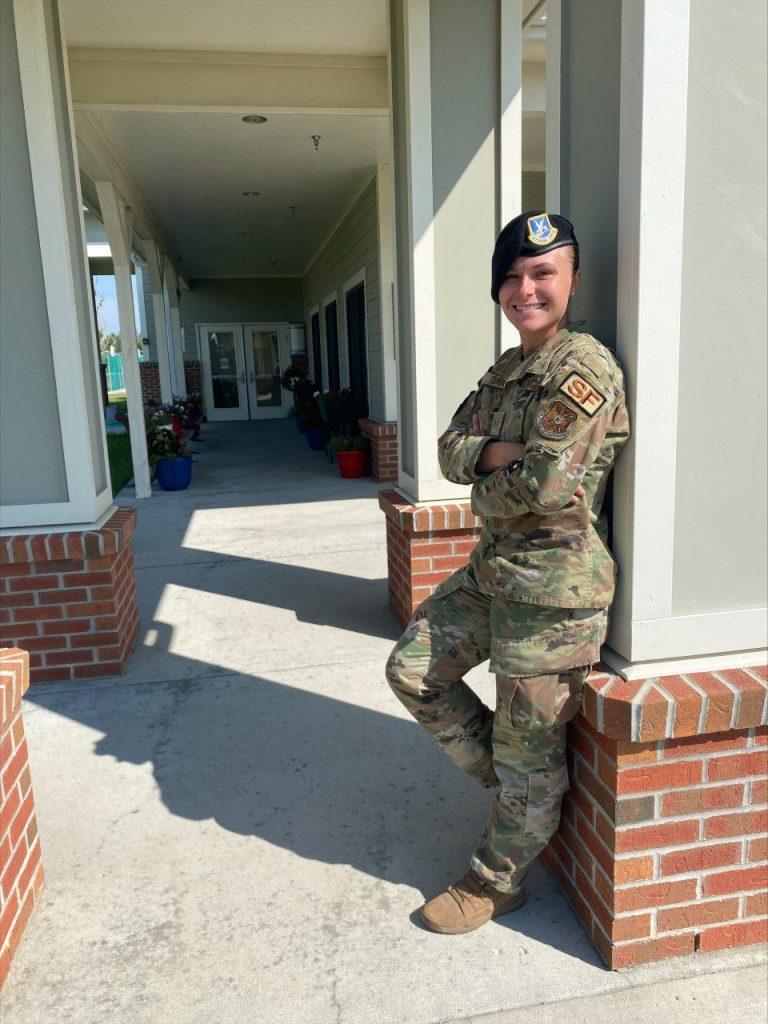 SrA Donovan is originally from Washington state and has been stationed at Minot for about three years, where she lives in base housing. Although Donovan originally wanted to be a loadmaster when she enlisted, she is grateful that she was chosen for Security Forces as she believes she is here for a reason and ultimately SF is what she was meant to do, and she is loving it! With her cheerful disposition and go-getter attitude, SrA Donovan is ready and eager to get started being a friendly face for the Minot Base Community

The Community Defender is also referred to as Police Liaison, SrA Donovan, can be contacted Monday- Friday 8:30 a.m.-5:00 p.m. at the housing office on base.
Or give her a call at (701) 833-5613 starting September 1.