The sun is shining, the grass is attempting to get greener and all of Minot AFB is aching to get out and enjoy some warmth! The Minot Outdoor Recreation Center is here to assist. Last Friday, the ODRC hosted an Open House to show off all the equipment they rent, the trips they plan and the plethora of activities and fun that can be obtained in the North Dakota outdoors. This event hosted the National Park System Park Rangers who were giving out FREE 2022 National Park passes to all military members and dependants! These passes can also be obtained by visiting any National Park and showing a Military ID. The Rangers took time to point out all the National Parks within driving distance from Minot, including Theodore Roosevelt National Park and the Badlands National Park in South Dakota. Also present was a representative from the Minot Parks District with info from the Roosevelt Park Zoo, local trails, summer sports programs and much more! The event had free, sizzling hot dogs on the grill and a faux camping area complete with a tent and sleeping bags that displayed everything that can be rented from Outdoor Rec in a visually pleasing way.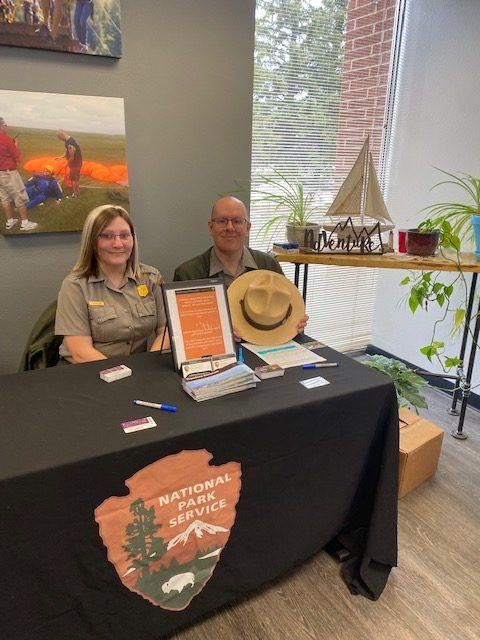 Rounding out the really cool experiences offered by Outdoor Rec is the recreational vehicle and camper rental program, where one can rent any size RV for the day, weekend or longer! If new to North Dakota summers, one thing to be discovered is this state's obsession with camping. The mild days, cool breezy nights and extended daylight hours make North Dakota a camper's dream. To get some tips for new campers in the state, this reporter caught up with a local camping enthusiast, Thomas Pierce. Pierce's first camping trip in the state was in 2019 when he and his family rented an RV from Outdoor Rec. He recollected their first time camping and how the learning curve made the adventure even more memorable. He said, "… our first camping trip was memorable because…we forgot our bicycles but we remembered to take the helmets. The corkscrew broke when we tried to open the bottle of wine. The strangers next to us gladly let us borrow their bottle opener and we spent the rest of the weekend talking and sharing food with each other. Lastly, we ran out of fresh water on our last day so instead of taking a shower, we used baby wipes." Pierce recalled that, " Instead of being angry and worrying about having a perfect vacation, I realized I was still having fun. I realized that my family was also delighted by the challenges and they were happy." After exploring over 9 campgrounds in the state, Pierce recommends newbie campers to not worry about forgetting something. He says most neighbors are happy to help out and if you're worried about how to do something, there are lots of YouTube videos to help you out in almost every situation. He also recommends that anyone interested in camping here should join the Minot AFB Camping Crew Facebook Page which has several hundred local campers willing to help and answer questions. When asked, Pierce mentioned that his favorite campground in the state was, "…Van Hook Resort near New Town because they have lake-front sites and family activities every weekend. There's also a small convenience store for the items that were forgotten. My little kids enjoyed the two different playgrounds, the swimming area, and the hikes around the lake." He also mentioned that his family loved Medora Campground because it's on the river and there are lots of trees for shade as well as very friendly staff. Why is he hooked on camping now? Pierce said camping brings him calm and "…I enjoyed seeing the sunsets over the lake and the sensation of leaving stress at work. Our family enjoys camping because it makes us de-stress and spend time with each other."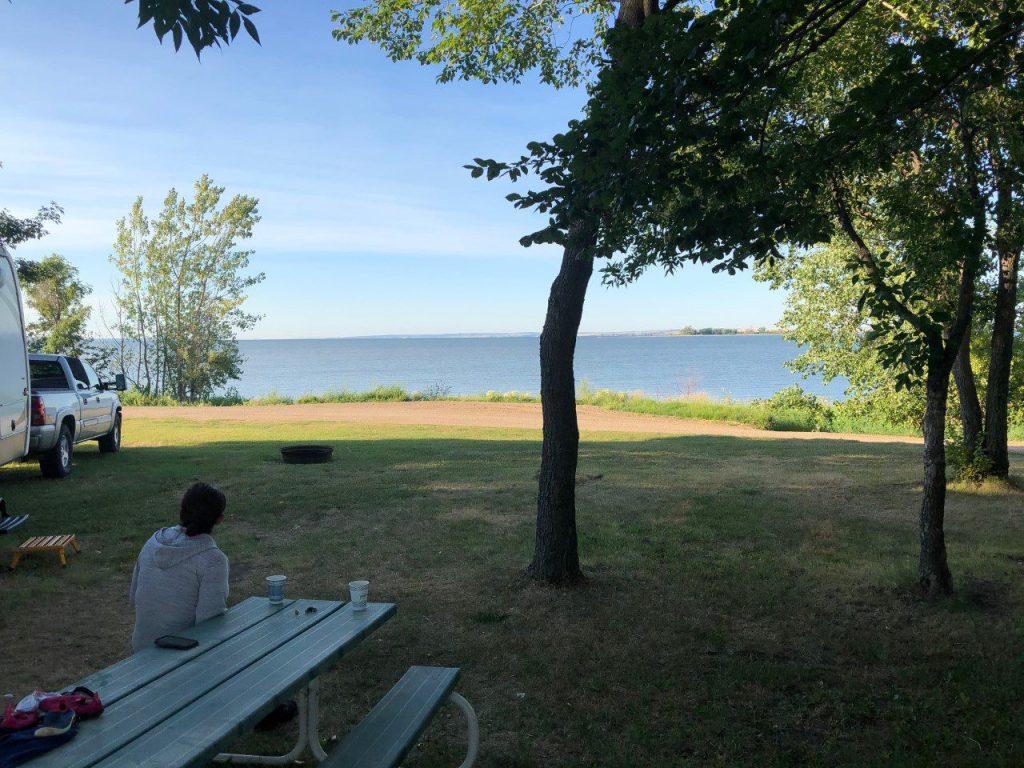 If spending entire days outdoors does not sound enjoyable, what about just a few hours on the lake? Don't let fear of inexperience be a worry. This reporter caught up with North Dakota fishing guide, Brett Bloemendaal, at the ODR Open House and learned a thing or two. Bloemendaal grew up in the Midwest and often went fishing with family as a child. Later in life he ditched the outdoors to become an investment analyst. After a while, the outdoors were calling again so he decided to quit his job in the business world and return to the fresh air to become a Fishing Guide instead. Bloemendaal now offers fishing tours for all ages and all experience levels based in Garrison, an hour's drive south of the base. He is licensed, insured and presented with a very forthcoming, yet relaxed and friendly demeanor that exudes fishing knowledge. He books tours all summer season, yielding positive online reviews and videos from satisfied customers. For more information about booking a fishing tour this summer, find Brett on bloemendaalfishing.com or Bloemendaal Fishing on YouTube.
It has to be said: North Dakota in the summer is beautiful. Whether it be camping, fishing, swimming or gardening, getting outside this summer to enjoy the expansive blue sky is a must. There are plenty of opportunities for all ages to try something new and give an outdoor interest a go. Stop by the Outdoor Rec Center for TONS of support and information, or just sit outside and have some lemonade with friends. The nice weather is finally here, so don't waste it!