BARKSDALE AIR FORCE BASE, La. —
Air Force Global Strike Command released the initial PCB survey results from Minot Air Force Base, North Dakota, Thursday, completing the first round of sampling at its three missile bases. Also included in the survey were Malmstrom AFB, Montana, and F.E. Warren AFB, Wyoming.

The survey was conducted in June and July, 2023, and consisted of air, water, soil and surface swipes at each Missile Alert Facility (MAF) in the command. While no airborne PCBs were detected in any of the tests, four surfaces tested above the EPA's standard for non-porous surfaces: at Malmstrom AFB, one surface in Hotel-01 and India-01, and at Minot AFB, two surfaces in Delta-01.

During a virtual townhall Friday, Air Force Global Strike Command commander Gen. Thomas Bussiere discussed the latest results and took questions from Airmen and Guardians across the Department of Defense, including at U.S. Strategic Command, U.S. Space Command and Air Education and Training Command.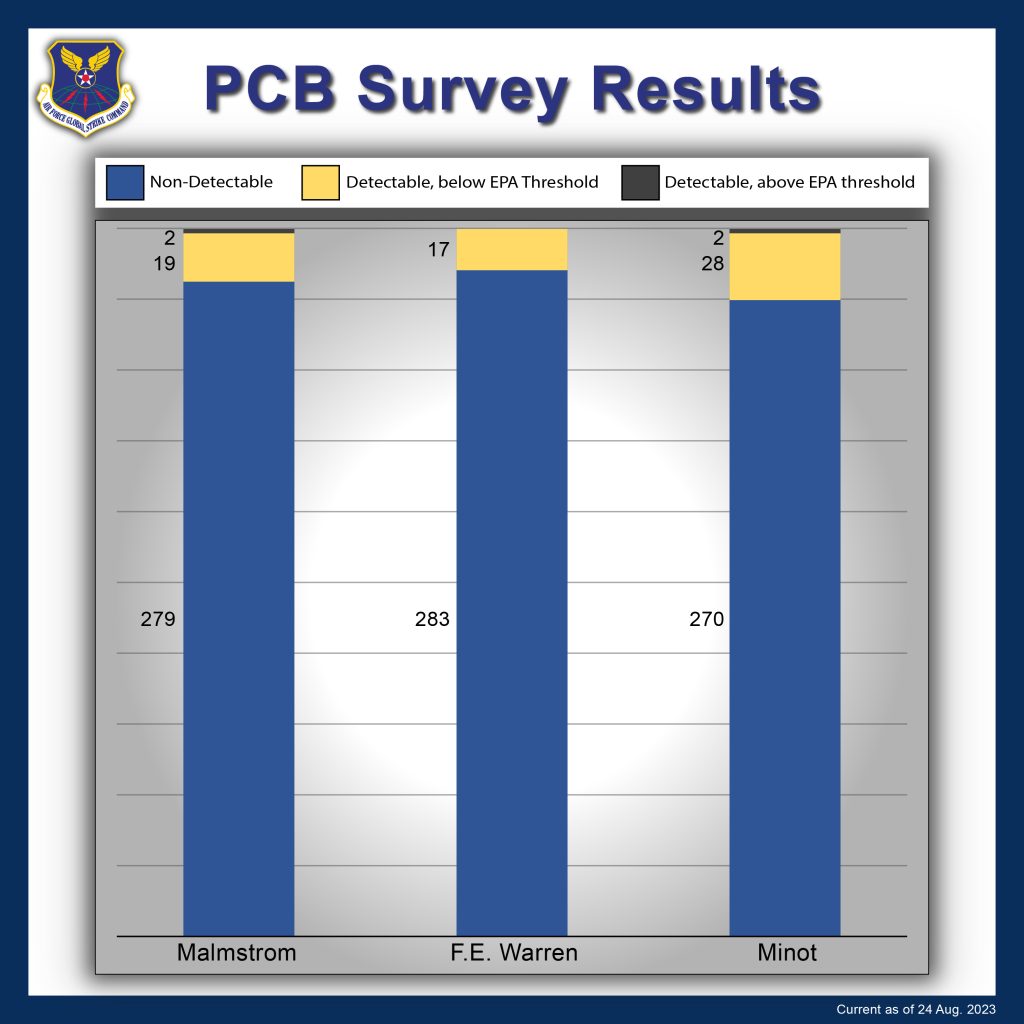 A total of 90 air samples were collected, consisting of 8-hour samples collected at each above-ground MAF and each underground Launch Control Center (LCC), which includes an adjoining Launch Control Equipment Building (LCEB). No air samples detected any airborne PCBs.

A total of 900 surface swipe samples were collected from across all of the command's MAFs and LCCs, focusing on common touch areas and places where known or suspected PCB-containing equipment was currently or historically installed. Of the 900 samples, 832 (92.5 percent) detected no PCBs, and 64 (7.1 percent) detected PCBs at levels below the standard set by the EPA for mitigation. Four surface samples (0.44 percent) detected PCBs above the EPA's standard for mitigation, two each at Malmstrom and Minot AFBs. (See Figure 1).

The EPA requires mitigation of PCBs when non-porous surfaces contain more than 10 micrograms in a 100 square centimeter area (a space about the size of your palm). A microgram is one one-millionth of a gram. A gram is approximately the weight of a paper clip.

Bussiere ordered the immediate cleaning of all facilities where any level of PCBs was discovered, regardless of whether it was above or below EPA standards. In facilities where surface samples detected PCBs above the EPA standard, he ordered restrictions and mitigations to prevent exposure until clean-up can be completed.

"Our Airmen are charged with carrying out the nation's most important mission, and they deserve a safe and clean work environment while they perform duties," said Bussiere. "I have directed my subordinate commanders to take immediate steps to clean these facilities, and we will take further action based on additional results from the Missile Community Cancer Study."

In addition to PCBs, the U.S. Air Force School of Aerospace Medicine is sampling for a range of other potential contaminates, including radon and pesticides from agricultural runoff. Results from these tests, as well as PCB tests on soil and water samples, will be released as they are provided to the command.

More information about PCBs: https://www.epa.gov/pcbs/learn-about-polychlorinated-biphenyls
More information about the Missile Community Cancer Study: https://www.airforcemedicine.af.mil/Resources/Missile-Community-Cancer-Study/