MINOT AIR FORCE BASE, N.D. —
The Air Force Wounded Warrior Program visited Minot Air Force Base, North Dakota, August 21, 2023.
The AFW2 team, including program managers and ambassadors, visited Airmen from the 5th Security Forces Squadron and the 91st Security Forces Group. Here, they shared stories from their careers and how they came to be a part of the AFW2 Roadshow team.
"These ambassadors aren't on a payroll," said SMSgt. (Ret.) Carlos Villarreal, outreach ambassador coordinator for AFW2. "They are wounded warriors who are in recovery and want to share their story."
AFW2 is a program that provides support for wounded, ill, injured Airmen, Guardians, caregivers, and their families as they recover and transition back to duty or to civilian life.
More than 8,400 wounded warriors, their families, and/or caregivers are being supported by the AFW2 program. AFW2 is functionally aligned under the Air Force Warrior Care Division and operationally managed by the Air Force Personnel Center.
As part of the program, the Roadshow Ambassador event provided the AFW2 team an opportunity to teach Team Minot Airmen about their expansive list of support systems. It also allowed the ambassadors to share their story of trauma, resiliency and overcoming their hardest times.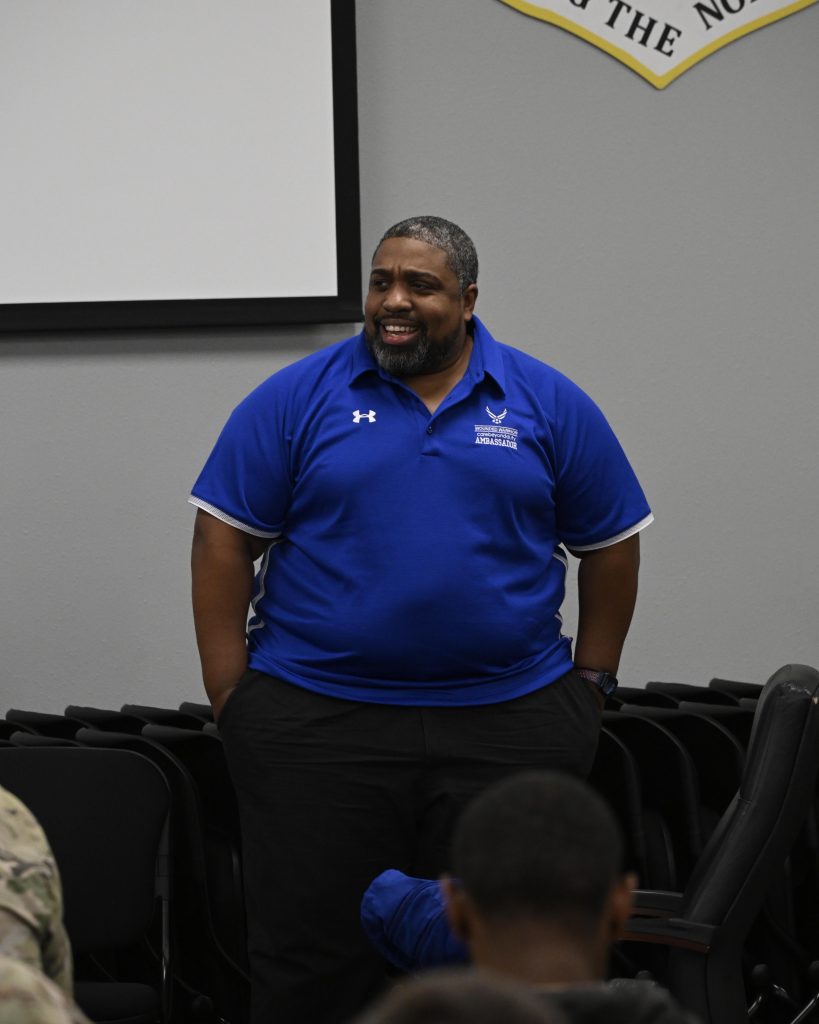 "I was suicidal, depressed," said SSgt. (Ret.) Kijuan Amey, AFW2 ambassador. "I kept telling myself I can never have a family, and now that I'm blind, even if I do have a family, I won't be able to see my kids grow up. But I didn't give up. This program isn't just to make sure people like me can survive, it's to help us thrive."
AFW2's goal is to help Airmen obtain a refined, simplified transition back to duty or into civilian life, ensuring they are well-equipped to manage challenges because of their wounds, injuries, or illnesses.
"I may have lost my sight, but I never lost my vision," said Amey. "The only thing that can stop you is you. So many people suffer in silence. Don't suffer, we're here to help you."
Programs like AFW2 are how the Air Force cares for and serves its most valuable resource; its Airmen. This visit ensured that Team Minot Airmen know about this program and all the help it can offer them and their families.
"I'm ready now," said MSgt. (Ret.) Kingsley Scott, AFW2 ambassador. "It's taken me years to be able to tell my story. This program has enabled me to heal in my own way."