As a journalist you appreciate being given the opportunity to visit with a person who is in a position of authority, like Col. Daniel Hoadley, Commander of the 5th Bomb Wing. It seems that each wing commander deals with unique challenges. COVID 19 in 2021. The invasion of The Ukraine in 2022. Situations unique to their command tenure. Yet what we know about each of the Wing Commanders who have served at Minot Air Force Base is that their experience and integrity has prepared them for their position. We were able to sit down with Col.'s Hoadley and McGhee in one on one interviews.
Col. Hoadley Looks At Minot Air Force Base, 17 years later….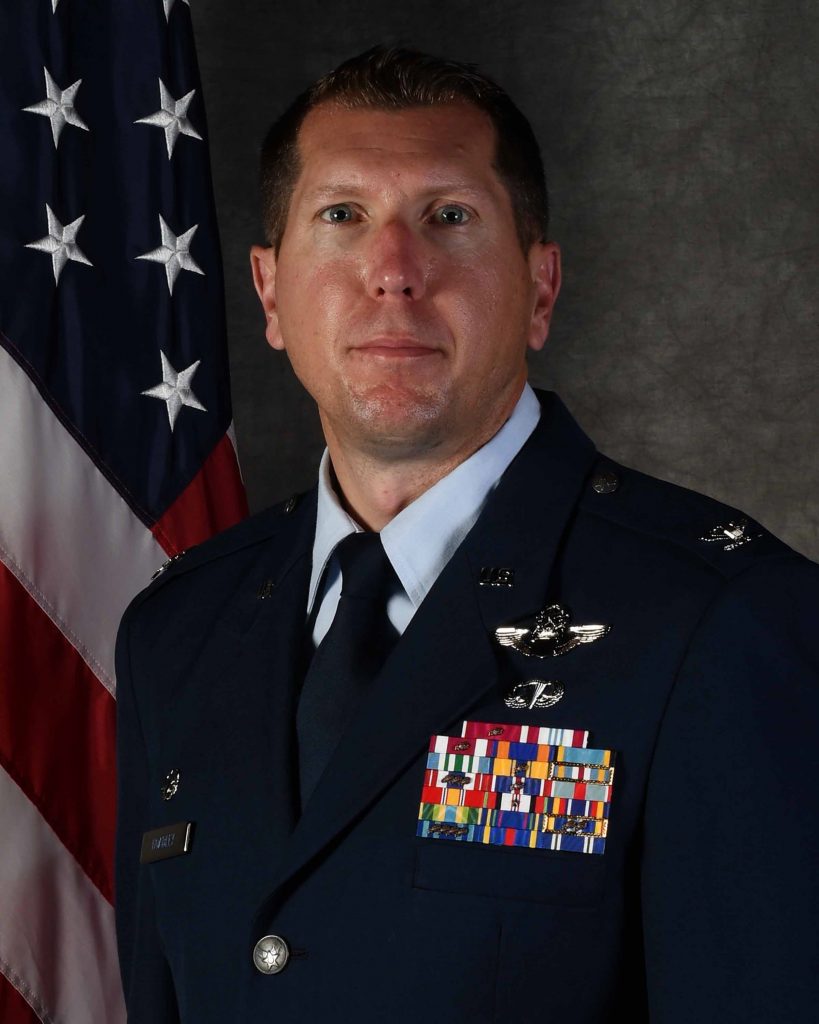 NS- So after these past few months as Commander of Minot Air Force Base, where are we at?
Col. Hoadley- This place (Minot AFB) is amazing. It's much different and better in a lot of ways than the place that Joyce and I left some 17 years ago. It's not to say that we don't have some work to do improving facilities and processes around base to make things a little bit better, but we have an awesome team, and we'll get it done.
NS- What are some of those processes and facilities that impress you. 17 years is a long time.
Col. Hoadley- Facilities like the BX is so much better. When we were here before it was in the facility that is the Security Forces training complex. The shoppette inside the gate did not exist. It's really awesome to have a 24 hour shopette on base. And of course, now we have 8 dorms on base. Base housing is completely different. Joyce and I lived in a 4-plex. Today they have individual houses with garages. And downtown is completely different too. The only places to go eat were Applebee's and Grizzlie's in the mall and 10 North Main had just opened up. Now there's a real upscale downtown with a lot of great places to get out and enjoy yourself.
NS- You definitely hit the ground running when you arrived in Minot. Are you surprised at the pace this base maintains?
Col. Hoadley- Not really. Minot Air Force Base has always been a fast paced place. The 5th Bomb Wing has always been a very high speed organization with a pretty demanding mission set. I can say that one of my objectives during my command tenure is to look at how we make that pace more predictable. Not saying that we aren't going to be busy, but we are able to advertise to our Airmen when we are going to be busy, and when there is a light at the end of the tunnel, and they can take a little bit of a break and re-charge their batteries and get ready for what's next on the schedule.
NS- That's providing that the world stays on an even keel.
Col. Hoadley- Yes, frankly we are in a high demand business, and the joint forces and our allies all have a healthy appetite for what the 5th Bomb Wing provides. It's nice to be needed, but it can make life pretty busy, too.
NS- What years were you here previously?
Col. Hoadley- We were here from 2003 to 2005.
NS- After you left here, can you give us a run through of your career up to this point?
Col. Hoadley- Sure, after I left here, I went to Whiteman Air Force Base, Missouri. I was flying the B2 there. I had a total of 7 years there the first time. Left there in 2012; a brief tour through Knoxville for some school and then out to Join Operations Command at Fort Bragg, North Carolina for a couple of years. Then back to Whiteman for 2 years as a Squadron Commander from 2015 to 2017, then to DC for 3 years in a fellowship and working on the B21 on the staff, and then Elsworth Air Force Base as Vice Commander before being assigned here.
NS- So, you've been able to fly all 3 Air Force Bombers?
Col. Hoadley- I was able to have a unique experience because of a lucky circumstance, kind of a cool experience to be able to fly all 3 airplanes.
NS- You have taken over command at Minot Air Force Base, and you don't have to deal with COVID 19 in quite the same way. What do you see now from your position as Commander of the 5th Bomb wing? What are the differences in morale and operations?
Col. Hoadley- I will preface my answer with a statement that I don't think that we are completely out of the woods when it comes to COVID 19. We are still having discussions about it and mitigations, and that will continue for some time; but it is certainly much less problematic than what Col. Walters had to deal with, and certainly less of a hot button topic. We are certainly fortunate to be in an environment where we are able to get out and connect and spend time together building morale, reconnecting, and really establishing those links that make Minot a special place. The family atmosphere in Minot is like nowhere else in the Air Force and it is something that is unique feature of Minot, and it helps you get through what can be kind of a tough environment for good chunks of the year.
NS- What programs that you have seen at Minot Air Force Base that you would like to see improved and given the opportunity to grow?
Col. Hoadley- We certainly see a lot of great programs and experience a lot of great partnerships between the community and base and sometimes I don't feel that there is an awareness of those programs as I would like to see. I think we can do a lot more to advertise the opportunities that are out there. We have been talking with Mayor Tom Ross on how we can get people downtown as part of their orientation to make them aware of all of the great things that are downtown, and likewise get people from the community on base, and make them aware of some of the challenges we face out here and discover some of the challenges that we can work together on and solve.

NS- Your kids have returned to public school this year after being home schooled for 2 years. Can you discuss what was behind that decision for you and Joyce?
Col. Hoadley- Minot Public School had extremely high ratings across the many categories on the national scene and a great reputation. We heard many comments about kids having a positive experience in school, and we are looking forward to that type of experience for our kids.
There's always an environment that you have when you are growing up as a military kid. They interact with other kids. Everyone is in the same boat. There's a security in the military, and the military neighborhoods that is special. It's one of the nicer features of being a military family and living on base. You know it gets back to that signature feature of Minot, like I was mentioning earlier, it really is a special culture that goes along with living here.
NS- A lot of emphasis has been put on the "Big A", as it pertains to helping each individual Airmen. From your standpoint are seeing an improvement, are we turning the corner?
Col. Hoadley- A part of what Chief (CMSgt Tori) Jones and I have to do every day is go to work and continue to fill in those gaps in some of the career fields on base in this very critical mission set that we have in Minot. There still is certainly a lot more work to do on the programs that address some of the issues we have when it comes to personnel. We are very passionate in showing individuals that when they are doing their work, it really matters, it makes a very significant difference to the mission. And along with that, making them feel that they belong, and then they may choose to stick around. There's more work to be done to build off the momentum we inherited from our predecessor. Bottom line is that we need to continue to take good care of our Airmen and our families.
NS- Did you ever think that someday you would be in this position, in this chair, in this moment?
Col. Hoadley- No way…no. If you had approached me when we were leaving here in 2005 and asked me if I would be back here as Wing Commander, I would have said you were crazy. And even as recently as a few years ago I didn't think this was in the cards for me. I have a responsibility to take care of the mission and the people here at Minot.
NS- So, we know that Minot gets a bad rap when people are first assigned here, but do you see a difference in the Airmen that have had a chance to experience Minot after they have been here for a while?
Col. Hoadley- Yeah, you see those that are averse to coming here and then when it is time to leave you have to pry them away. The really become immersed in the culture.