It was a warm Tuesday afternoon, but people lined up as the annual Back To School Backpack Brigade sponsored by the MAFB School Liaison Office and national nonprofit Operation Homefront. The event offered free resources and support to military families as children are heading back to school, which can be a hectic (and expensive) time of year.

"The need was 200 backpacks, and we were able to distribute 90% of the backpacks today" said Joy Nicole Smith, School Liaison Program Manager. "Along with that, we have 12 helping agencies that came out and set up info booths to provide resources to families." Volunteers helping with the Backpack Brigade included Col Daniel and Mrs. Joyce Hoadley, and Col Kenneth and Mrs. Corliss McGhee. "It's always great when wing leadership shows their support and even better when they join in and help out in efforts like the Backpack Brigade" according to Smith.

Representatives from the contributing organizations offered volunteers to help with the Back to School Backpack Brigade and offered other resources that may be useful to new or current families on base. The backpacks were handed out to families in need as an effort to ease even a little bit of the financial weight of buying school supplies.

"It takes collaboration to form the partnership for the Backpack Brigade" says Smith. "It's hard to know the need. There are a lot of factors that contribute to the struggle that a family is going through financially and so it's some help for any military family, regardless of rank, to be able to get some relief for the very expensive back to school time that we are in."

The Minot Lion's Club, a local service club organization branch, also attended the event and offered free vision tests for students, which is an important part of making sure children are able to perform their best in school.

The Youth Center plays an integral role in supporting the families of Team Minot. Along with their Back to School Backpack Brigade and other helpful resources, they also offer a variety of community activities for students and families, including the upcoming Open House and the Family Fun Fest.

Joy-Nicole Smith was quick to point out the help she received in organizing this year's Backpack Brigade, "I have only been in this position for only 2 months. It's incredible, the partnerships that we have to support our Minot Air Force Base students. Not only today, but throughout the year."
To reach the School Liaison Office/Child and Youth Education Services, call 701-723-1447 or visit the Child and Youth Extension Building (Building 164, Summit Drive across from Jimmy Doolittle Center).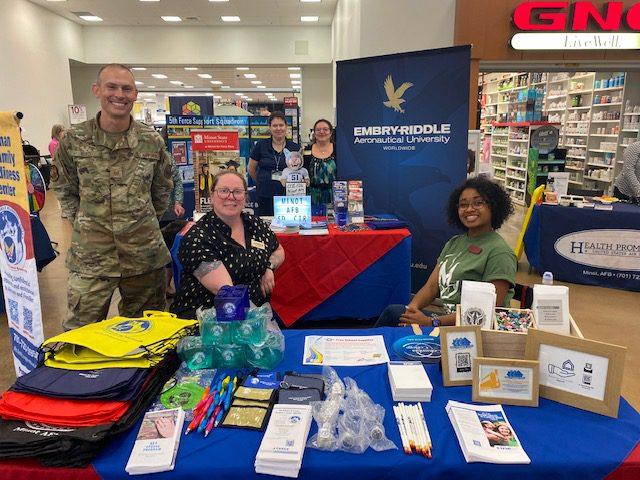 Note: No federal endorsement intended