I was rushing to eat my vegan cheese bagel in the car. I didn't want to waste this delicious snack! As I hurried to eat, my mom came closer to pick me up. Once I finished with my bagel, I walked up to my mom excited to enjoy downtown Minot. We came up to Margie's Art Glass Studio with a small painting of the same store beside us. An older woman welcomed us in and said the painting outside was created by her. As I viewed the painting, I was impressed by this work of art. The shading was perfect and the colors showed in a radiant combination. It was quite a chilly day to paint. A young worker, full of color and energy said I could keep one of her handmade hoodies she was selling. I've always been inspired by art, so I asked to paint a picture on the little paper outdoors. Turned out, I was told to draw something in the downtown festival, so I picked a flower pot. Here's the work of realistic creativity!

I've always known that I loved the creative side of myself. Oh, how I loved to explore and go through drawings with trial and error. A few things you should know about me is that I was born in Aviano, Italy. I lived there for about two years and moved to Germany for six years. While I was in Europe, I explored and saw so many types of people and cultures that I became interested in art and how unique the world is. That informed me, the world had so much more and was so big and full of so much life.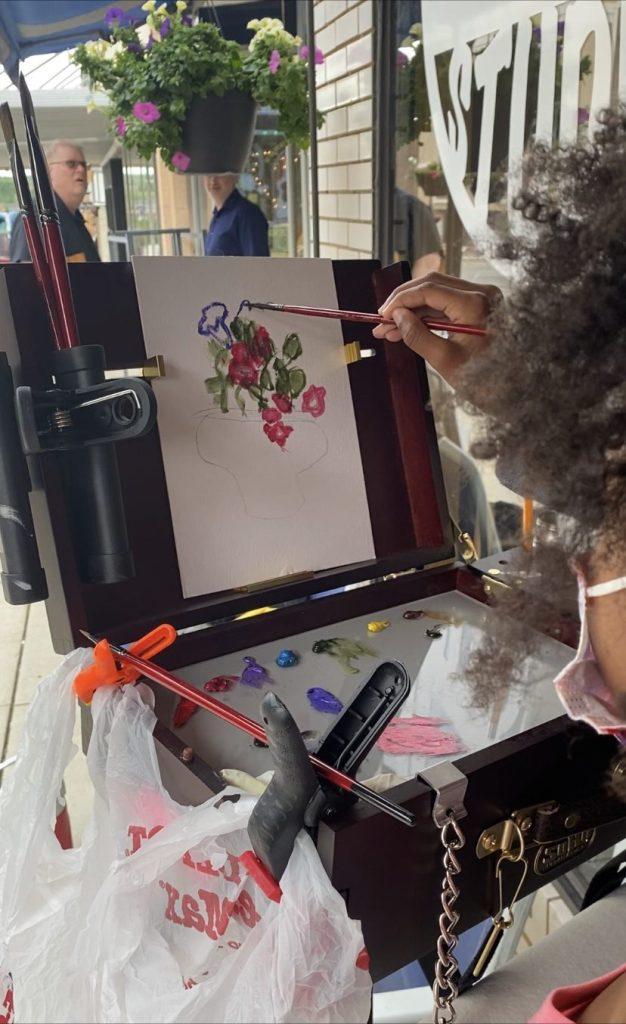 Drawing was always part of my world ever since I was younger. While in downtown Minot, I drew at a nice pace with Donna Watts guiding me. I made sure to get some of the color of the flowers. "She's painting this flower pot hanging over here." said Donna Watts. Many admired my work, but I thought differently about it as if it was such small "kiddish" work. I took every moment of drawing, putting in my best work with celebration and a bit of imagination.

From this experience, I think of a larger world. Like in cartoons or superhero adventures, some of them are about leaving home to save it and their love for it. The outside may look scary, but you never know what's really out there unless you actually see it yourself. Many should try to explore to see detail in reality. Over time, find a plan to visit another country or state. It's almost been a year in Minot and my first time to paint outside on this specific canvas. Use that experience you find for imagination and creation combined with memories. Don't try to be convinced that you're trapped by border walls. There's always a new opportunity in every new creation. What do you see in your imagination?