MINOT AIR FORCE BASE, N.D. —
Early Sunday morning, May 1, 2022, many citizens in Ward County received a public safety notification informing them of a train derailment in Burlington, North Dakota and to evacuate their homes immediately.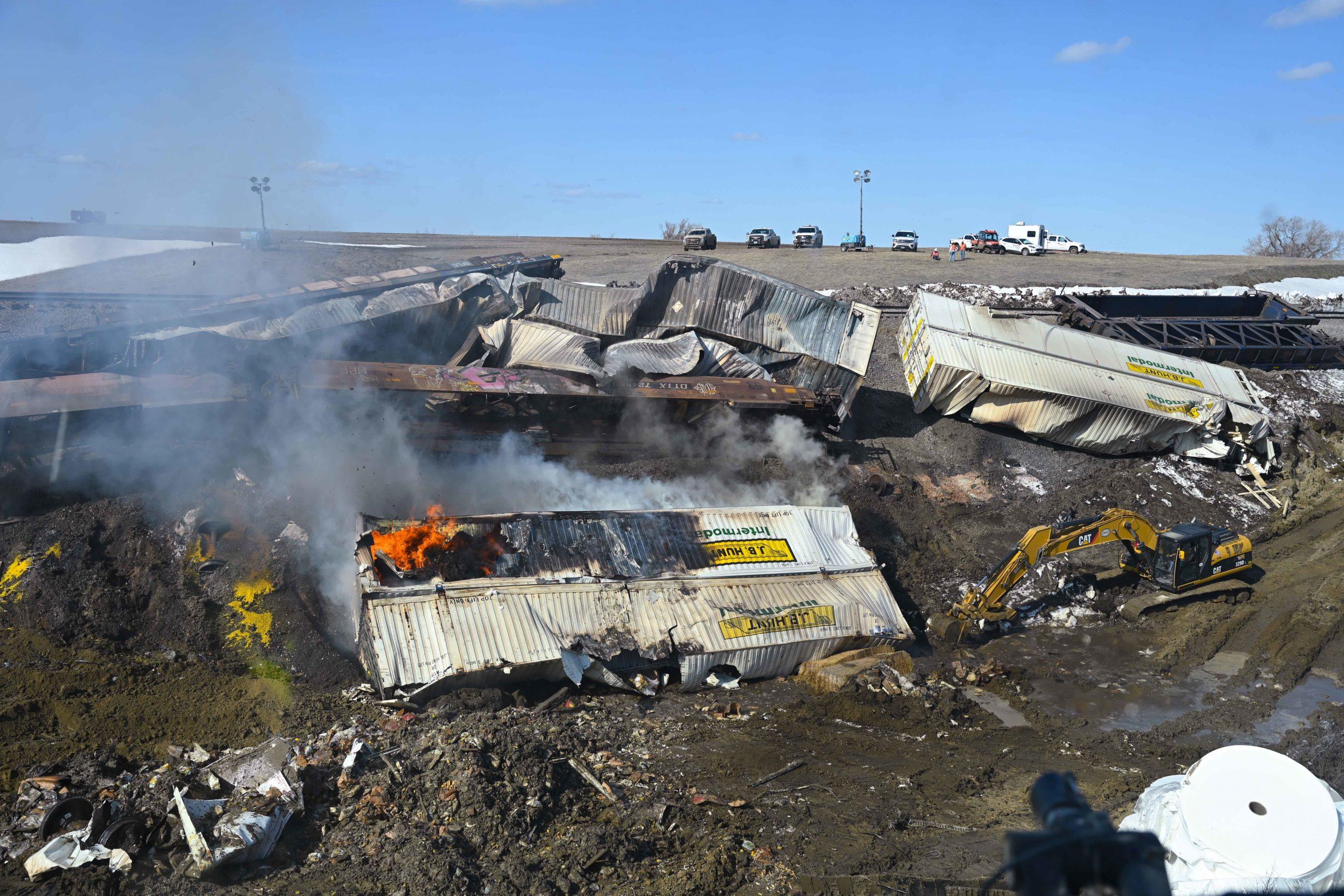 Shortly afterward they received a follow-up notification indicating the situation was safe and to return home. However, for some members at Minot Air Force Base they started heading towards the scene of the incident.
Minot AFB Firefighters from the 5 Civil Engineer Squadron received a call to respond early Sunday morning and immediately dispatched to the accident in crews of three to assist Burlington and Minot Rural fire departments as a part of the Mutual Aid Agreement (MAA), under the standing Defense Support of Civil Authorities (DSCA), between Minot Air Force Base, United States Air Force and the Minot North Dakota Fire Department.
The train, transporting a variety of materials, derailed outside of the City of Minot limits near Burlington and ignited causing at least 11 cars to set fire. The 11 cars on fire contained freight consisting of paper and frozen foods and contained no hazardous materials, according to the on-scene incident commander.
The local fire departments responded to the fire with trucks equipped with foam to put out the fire while Minot AFB firefighters used water. The location of the derailment proved difficult for the crews to fully reach due to wet conditions, prompting helicopter air support from the North Dakota Army National Guard to assist in putting out the fires.
Though over 20 years since the last time a derailment happened at Minot, this is not the first time the Minot AFB Fire Department provided to support to the local community. Recently, the base fire department responded to call when the Glenburn Fire Department caught fire, burning the volunteer fire station down and destroying seven vehicles in the process.
"I'm extremely proud of the relationship we've established and continue to maintain with our mutual aid partners," said Chief Master Sgt. Shanton Russell, 5 CES Installation Fire Chief. "Our Airmen and their families live, work, shop, go to school, and find ways to have fun and enjoy the things this area has to offer. It's our home while we're here and the local residents are our neighbors."
The MAA provides authorities for both U.S. Air Force and local civilian fire departments to respond to incidents within each other's jurisdictions when requested.
"Over the years we've been asked to assist with numerous calls, such as the Glenburn Fire Station incident, a housing fire in Berthold, numerous farmland and brush fires, and a recycling plant fire just outside of town near U.S. Route 2," said Russell.
While Minot AFB Fire Department has made received requests for assistance, they have also made requests for assistance in the past. Just recently, community fire departments assisted with a smoke investigation at a facility off the main installation and before that they assisted in a hangar fire on base in 2020.
"We're grateful to be in a position to provide professional firefighters and equipment when needed, and it's good to know that our partners will have our back if we ever have to call on them," said Russell.