Military service is both a sacrifice and a privilege. Service members of all branches and their families are honored every Veterans Day as a thank-you for keeping America protected against foreign invaders. The US Armed Forces technically erupted during the country's birth in 1776; however, the US Air Force has been honoring its members since 1947 when it became a separate military branch. The Air Force plays a strong part in Minot's history and one small part of that slice of history is Colonel (Ret) Jeff Beene, USAF.

Every service member has a unique story to tell. Col Beene began his military career right here in North Dakota. First Lieutenant Beene- at the time- and his newlywed wife, Carol, arrived in the state on a sub-zero January day in 1984. Both from Texas originally, the weather was "a cold like we had never seen" remarked Col Beene.

Col Beene was assigned to the 23d Bomb Squadron when he arrived. Back then, at the height of the Cold War, each B-52 crew sat "on alert" for a week at a time, similar to what the 91st Missile Wing members do today in the missile field. While on alert, Col Beene explained that the B-52 pilots and team lived in a facility and could expect to have a "klaxon" – alarm that signals rapid reaction – at least once per week. During these alarms, Airmen had no idea if the alert was an exercise or real-life situation until they were suited up and ready to take action in the aircraft. Fortunately, Col Beene was grateful never to have carried out a real-world bomber attack mission during his years at MAFB. He said that bombers were on alert status like this until the Soviet Union dissolved and the threat lessened in 1991.
Col Beene recalled that time in his life by explaining how close the squadron members were and how much of their lives – when not on alert – were simply lived on base, which was more robust with services at the time. He explained that back then, the town of Minot was nothing like it is today, and he and his wife spent the majority of their time with the on base community attending First Friday events, squadron functions at the O-Club and church at the North Plains Chapel.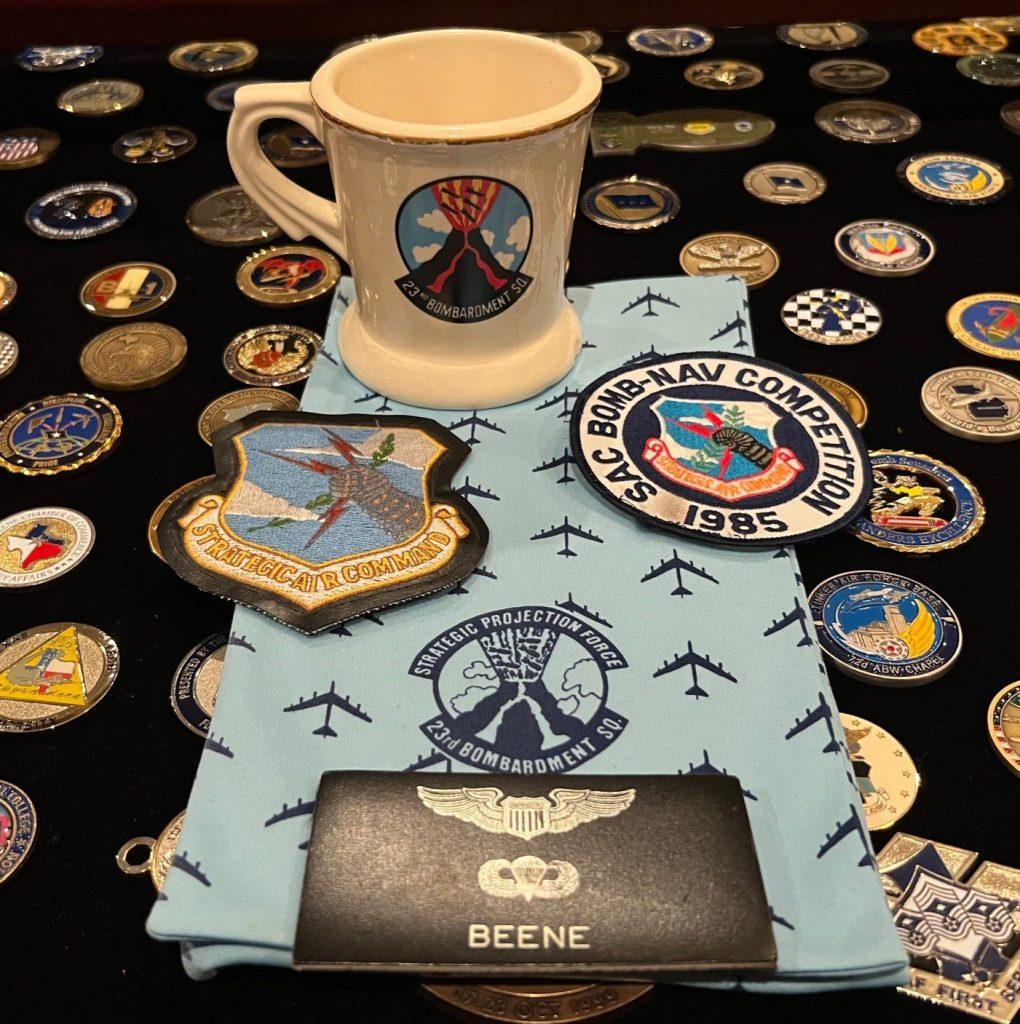 Having visited Minot AFB in the past year, Col Beene commented on the positive growth and amenities now offered in the city. When asked about what he remembers about his time here in the 1980s, Col Beene noted the unique core of community leaders and support the base had from the city of Minot. Col Beene specifically remembered the support of Bruce Christianson. He said Mr. Christianson was always willing to support the base and they developed a working friendship. Nearly 30 years later, when Col Beene went on to work as Director of Staff at Global Strike Headquarters at Barksdale AFB, he was pleasantly surprised to reconnect with Mr. Christianson, who still remained a dedicated community leader and supporter of Minot AFB.
When asked if he remembered Col Beene and the times spent in the 1980's, Christianson said "Yes!" He recalled Col Beene as a "real fine man."
Christianson was a Minot City Councilman back then and said they spent a lot of time trying to make sure everyone felt welcome in the Magic City. He remarked, "times were certainly different, but we had lots of fun forming relationships [with the MAFB Airmen]. We would have golf tournaments and game shooting competitions." Today, Christianson remains a long-time member of Task Force 21, the committee aimed at working with local & state government to represent and lobby for Minot Air Force Base. He plans to continue working on the strong bond between the base and the city of Minot.

Many Airmen have made their way North through Minot AFB's gates, and many will still follow. Their stories are all different. Col Beene went on from North Dakota and served 26 years on active duty in the Air Force before retiring in 2008. After that, he served an additional decade as a civil servant. He lived at 13 different duty stations and traveled the globe during his active duty time protecting the United States. Thank-you for your service, Col Beene!