MINOT AIR FORCE BASE, N.D. —
The 91st Missile Wing conducted an exercise simulating the retaking of an intercontinental ballistic missile launch facility, Aug. 8, 2023. The exercise, called Bully Knight, focused on the 91st Security Forces Group and was conducted in the hours of darkness, forcing the Defenders to use specific tactics in order to achieve their goal.

"Due to nighttime operations, command and control was imperative to ensure timely actions as well as mitigating confusion during the integrated response," said Tech. Sgt. Kyle Shaw, 91st Missile Wing inspector general team.

The exercise event consisted of the recapture of the launch facility from hostile forces and involved airborne insertion of tactical response forces via the 54th Helicopter Squadron. The exercise itself was designed to prepare Defenders and allow the 91st MW the opportunity to validate their strengths and identify their weaknesses.

"Honing our response skills to eliminate hostile threats will sustain and bolster the credibility of our security forces and the nuclear mission," said Shaw.

Due to the lack of light, defenders employed the use of night vision as well as overhead surveillance provided by the supporting 54th HS aircrafts.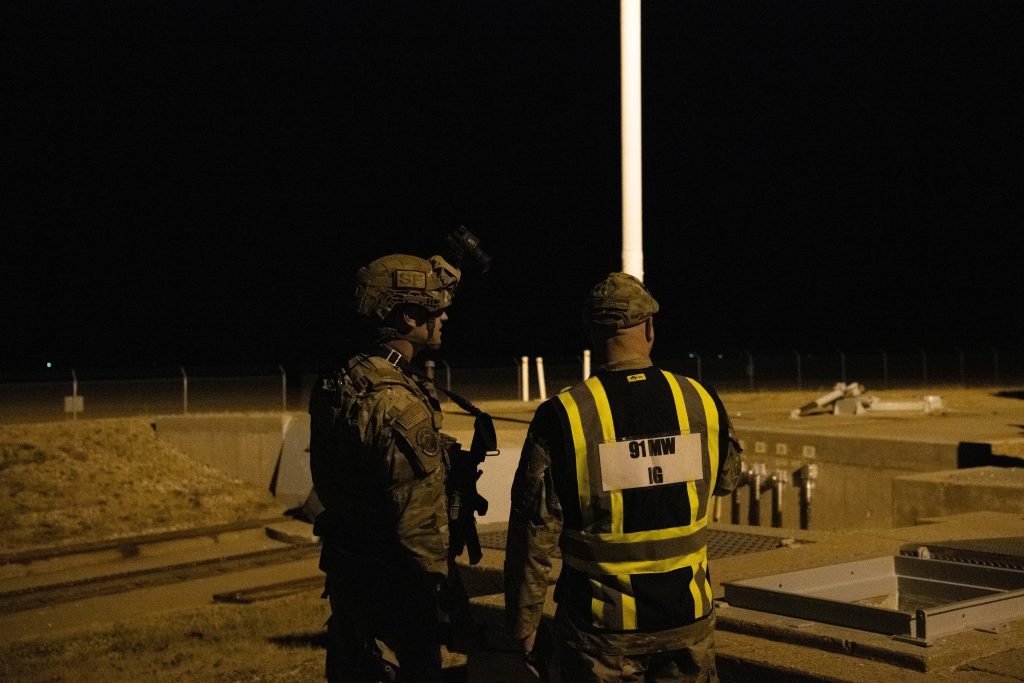 Although the mission conditions were unorthodox, Defenders from the 91st SFG rose to the occasion, and ultimately recaptured the facility.

"[some of the positives I saw were] Defenders not rushing to judgment and making sound tactical considerations in order to effectively execute tasks based on the situation presented," said Shaw. "Some of the responding Defenders were new to the ICBM mission, however, their motivation and assault tactics were key during a less-than-ideal situation."
After neutralizing the simulated threats, the defenders reviewed their performance of the exercise and how they can improve in the future.

"These qualities were great examples of taking the initiative and having confidence in your ability" said Shaw.
The 91st Missile Wing operates 24 hours a day, 365 days a year, maintaining and defending 150 Intercontinental Ballistic Missile Launch Facilities and 15 Missile Alert Facilities spanning 8,500 square miles. The Wing's commitment to one of the most important missions in the Department of Defense provides the nation with a combat-ready nuclear force deterring adversaries across the globe.