Summer is upon us in Hot Dish Land. For locals this means trips to "the lake." For military families it means "PCS season." For all of us it means days outdoors, shedding the translucent pallor of winter, and gloriously long days.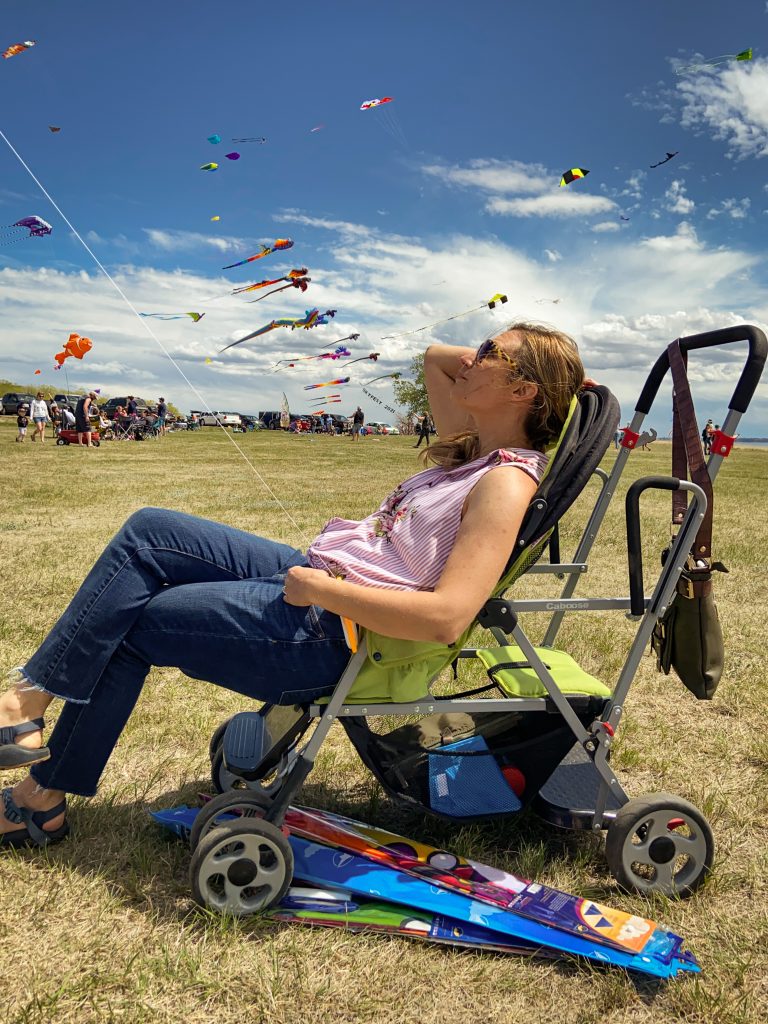 There are few things better than a North Dakota summer. They go by quickly, so I try to be very intentional about making the most of this time. Over the years, I've developed a short list of "summer things" to do each year. These are the extra-special things that make summer really feel like summer.

I don't do them all every year. Life is never a perfect practice. However, this is the short-list of must-dos I aim for. Today, I'm sharing them with you.
1.Sky Fest Over Ft. Stevenson–Sky Fest happens over Memorial Day weekend each year and to me, has come to signal the official start of summer. It's a kite-flying festival at Ft. Stevenson State Park in Garrison, and it is delightfully simple: people come and fly kites on the open lawn. There aren't vendor booths or food trucks–just some kites and windsocks for sale, and a small concession stand.
We pack a picnic and our kites and spend the day flying kites, admiring the giant professional kites, and exploring the park. For my family, the Sky Fest tradition concludes with a quick trip into Garrison for ice cream at Ye Olde Malt Shoppe. The 2023 event is happening May 27-29. Festival admission is free, but you will have to pay admission to the park ($7). Pro tip: you can check out a state park pass from the Minot Public Library (limited availability.)
2. MSU Summer Theater–One of my favorite ways to enjoy NoDak summer evenings is attending summer theater productions. MSU Summer Theater is top notch, and the newly opened amphitheater and concession stand makes the experience even more lovely. This is a perfect outing if you have guests in town. Since shows tend to go pretty late, we leave our littles at with a sitter and go for date night.
The season includes four shows, and runs June 13 through August 1. Pro Tip: get a root beer float during intermission.
3. Midsummer Festival–The Midsummer Festival is rooted in a Scandinavian tradition celebrating the longest days of the year. The festival takes place at Scandinavian Heritage Park and lasts three days: Festival activities on Friday and Saturday, followed by a worship service in the Stave Church on Sunday morning. On Friday, we like to get a food-truck dinner, watch the heritage parade, listen to the City Band concert, and attend the massive bonfire over the pond. We come back on Saturday for fika, accordions, and Billy Goats Gruff masks.
The Midsummer Festival is free to attend and will take place June 16-18. Pro Tip: This year, they'll be lighting a bonfire on both Friday and Saturday night. The fire can go late, so if you've got little ones plan to get a sitter, or let them take a late nap.
4. International Peace Garden–The International Peace Garden is a national treasure that few are aware of, or ever see. If you find yourself living in Minot and don't make a summer trip to the Peace Garden, you are missing out. To see the garden in full bloom, plan to go toward the end of June or into July. You can walk, bike, and canoe to your heart's content–and it's a perfect place for families with kids of all abilities and endurance.
Getting there will take you about two hours, but it's definitely doable as a day trip. Passports aren't required, but do expedite the process of navigating the border. Pro Tip: If you happen to have a pilot in the family, you can rent a plane from the Minot Aero Center and land at the Peace Garden Airport. From there, you can walk to the park.
5. Whirl-a-Whip–My summer is never complete without a trip to Dakota Drug for a Whirl-a-Whip. A Whirl-a-Whip is a retro soda fountain machine that blends hard ice cream with mix-ins, and Stanley, ND is home to the very last one known to exist. What exactly does it taste like? Why are they so good? Honestly, I can't explain it–but I can tell you it's worth the 50 minute drive every time.
Pro Tip: My personal favorite Whirl-a-Whip combination is vanilla ice cream base with coconut cream, orangesicle, and vanilla cake batter.

There is so much to love about Hot Dish summers, and I hope this gets your wheels turning about ways to get out and explore. I'll be sharing more ideas and fun things to do in Minot on my social media channels. And I'd love to hear from you–what are the big things that make summer feel like summer to you? Now, let's get out and start savoring this season.
For more Minot living and positive mindset inspiration, join me on Instagram (@amy_allender) and Facebook (@amyallenderblog). I love connecting with you, so never hesitate to drop me a message!