Woodland Resort Makes Devils Lake Special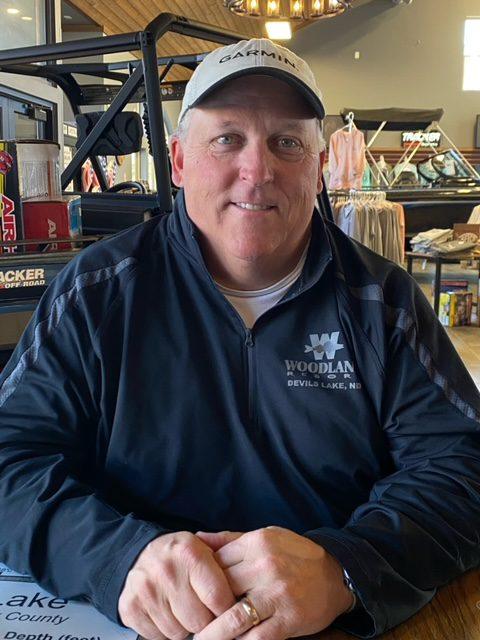 The journey to Woodland Resort takes me through familiar territory.
As the crow flies it is probably less than 25 miles from my hometown of Maddock, North Dakota. But back in my younger days there were no resorts around this body of water. The lake had sunk to an all-time low of 1,401.00 in 1940. The once popular beach destinations were gone. They were replaced by mud flats and even pastureland. Photos of vibrant shipping ports near Minnewaukan and Rock Lake are found in historic albums. Gone was the once famous ferry the Minnie H. A more recent low level was 1,422.6 feet in 1993. Devils Lake residents became very away of the saying, be careful what you wish for as the lake began a historic rise of 31.68 feet to 1,454.3 feet in 2011, flooding those once pastureland flats, but making for a larger lake and the opportunity to stock game fish like walleye and northern pike into the lake and to give them forage, perch were stocked and have thrived in the lake.

35 years ago, in 1988, the first of at least 3 locations for Woodlands Resort was built on the shores of Creel Bay. "My grandpa used to harvest wheat on land that is now in the lake in front of us," explains Kyle Blanchfield, who owns Woodland Resort, "across from the long-gone beach I hung out on throughout my childhood. The current location is built in a wooded area that was once far from the shores of Creel Bay. The constant moving was painful "but the high water has given us a world-class fishery, and people now come from all over to vacation in Devils Lake."

"We started right by the lake, but the lake came up and we moved up. We gained 9 feet, but that one flooded out in 1997, the year that Grand Forks flooded" according to Blanchfield and Devils Lake gained 7 feet. His new, and hopefully last location is in a flood free area.

This early spring day is a quiet day for Kyle Blanchfield and his Woodland resort staff. It's that calm between seasons. "We just pulled over 50 icehouses off the lake." The now famous perch and walleye fishery extends through the winter as ice fishing draws visitors from all over the United States and Canada. But now clear of ice in the some of the bays, Devils Lake waits for fisherman and families to arrive for their summer weekends and vacations. Devils Lake is now at a level of 1,450.49 feet above sea level.

The last turn into Woodland Resort reveals the newest building built at the resort. It now houses 1,2 & 3 bedroom suites that overlook Devils Lake, complete with full service kitchens. The resort building is also a small sales floor for Tracker boats along with a full service resort store.

Woodland Resort has other accommodation choices, "We have camping sites for those with campers and RV's. We have a nice, clean shower house and laundry. Besides the full service (legendary) suites we have our motel rooms, full service cabins and lodge units" according to Blanchfield. "We have a nice playground and swimming beach for the kids. You know we kind of keep the whole family happy."

Making your first trip to Devils Lake and not an experienced fisherman? Woodland Resort has the answer. "Yeah, we can book them a guided fishing trip. We work closely with the guides around here. And if they have their own boat, we'll give them advise about Devils Lake and what's working out there" Blanchfield continues. "We'd really like to provide accommodations to the Minot AFB personnel during the week, too. They can book a couple of days, or a week. We can line them up with a boat or a pontoon to rent. We want them to enjoy themselves to the fullest when they are here."

"Booking ahead is always advised" according to Blanchfield "but in all cases have them (the folks at Minot AFB) give us a call and we'll see what we can work out. We give a 10% military discount on everything, and that makes everything here pretty darned affordable."

Had I not had another appointment down the road in Grand Forks, I believe I might have spent a little more time enjoying Woodland Resort. The breeze off the lake blowing through the trees, and the silence and solitude of a few minutes sitting on a bench overlooking the lake. That's really what a vacation is all about.

For more information on Woodland Resort go to woodlandresort.com. For weekly fishing reports, check out Pat Stockdill's Outdoor Report, or just give Kyle Blanchfield a call or email. Tell 'em Rod from the Northern Sentry sent you.