Hey, Minot, it finally looks like spring has come to the Magic City, and what a great time to join Mouse River Players Community Theatre as we mount our final performances of our 51st Season with a local favorite comedy, I Hate Hamlet by Paul Rudnick!

It's the swinging 1980s, and it looks like Andrew Rally has it all: Good looks, popularity, star of a hit TV series, a loving, adorable girlfriend, a New York Brownstone apartment once the residence of a famed actor, and the opportunity to play the world's most famous role – Hamlet Prince of Denmark. But there's something rotten in the state of Andrew's life.
His Hollywood friend Gary is pressuring him to return to L.A. to star in another cookie-cutter TV teen drama, his chain-smoking manager Lillian, who has a secret all her own, has set him up with his no-pay non-profit Shakespeare in the Park appearance, and his long-time live-in girlfriend Deirdre is a hopeless romantic who won't have sex with him until "everything is perfect". He has moved to New York City to validate his talent with an honest-to-goodness acting role in a desperate attempt to prove he's more than just a pretty face on a cereal box. Unfortunately, there is one major obstacle to overcome: he hates Hamlet.

With the help of his slightly flaky real estate agent Felicia, who believes herself a medium capable of reaching through to the "other world", Andrew, Deirdre, and Lillian hold a séance to contact the former apartment tenant, John Barrymore, in an effort to gain insight and advice on playing the role of Shakespeare's conflicted Dane. The attempt, broken up by a frustrated Andrew, fails to make contact.

But, though the séance failed, the ghost of Barrymore appears to Andrew, in full Hamlet attire, ready to coach the young despondent actor toward his actor's destiny with Shakespearean oratory, grand stage movement, startling swordplay, and seduction of his willing but reluctant Ophelia. The laughs are non-stop as Andrew wrestles with his doubting conscience, a larger-than-life Barrymore phantom, his sword, and the fact that, s'truth, he is a failure as Hamlet.

David Becker, new to Minot, the Air Force base, and Mouse River Players, makes his local acting debut in the lead role of Andrew Rally. David has been active with the theatre for most of his life with roles such as Motel the Tailor in Fiddler on the Roof and Buddy in Elf; The Musical. He is backed up by a cadre of MRP regulars who have graced the stage in this year's Bone Chiller (Dorian Garland, Edward Montez, and Justin Anderson), Little Women (Katie Waid), and last year as directors (Ashley Nilsen and Heather Speer)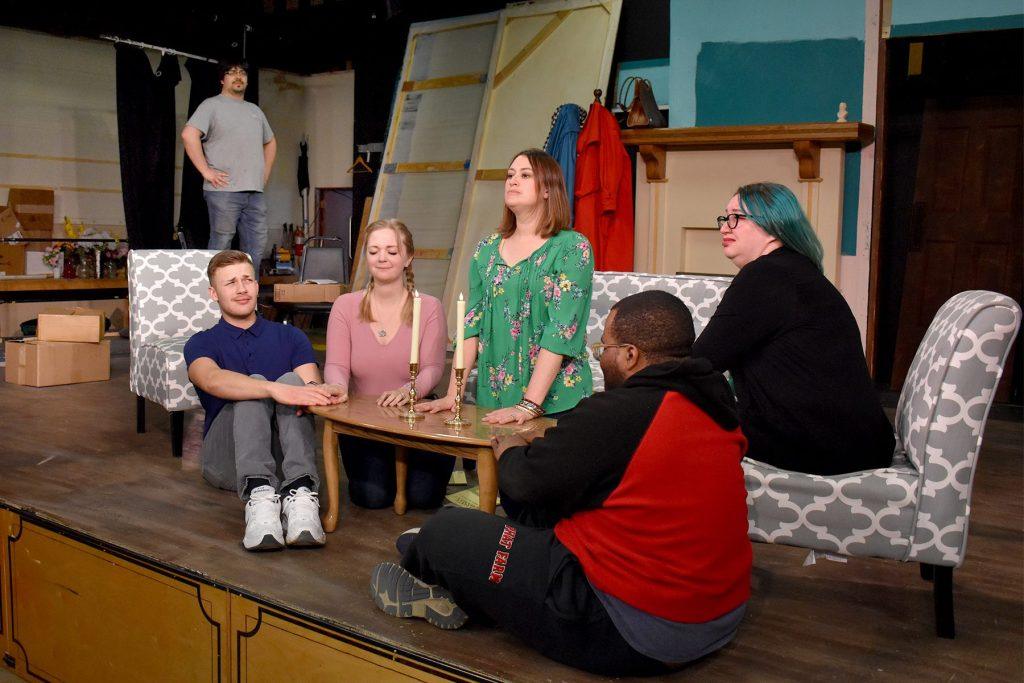 I Hate Hamlet is directed by Brittany Montez, a regular volunteer at MRP as an actor, director, and designer with the able assistance of her Assistant Director Triniti Gregg and Fight Choreographer Edward Montez.
Mouse River Players has also just finalized our tentative 2023-2024 season with a group of selections never before seen on the MRP stage. Our planned slate of shows include a well-known traditional musical, a heart-warming holiday-themed family drama, a comic thriller, a musical based on a popular series of scary young adult fiction, and a quirky comedy taking a different angle on well-known fantasy books about a secret school of magic. Watch for announcements about the season and upcoming open auditions on our Facebook page.

Tickets for I Hate Hamlet are on sale now and the seats will be filling up fast. Performances are Friday and Saturday evenings May 12-13 and 19-20 at 7:30 and Sunday matinees May 14 and 20 at 2:00. Adult tickets are $15.00, Seniors, Military, and Student tickets are $13.00 and children under twelve are $10.00. Some of the performance themes may not be suitable for younger children.

Reservations may be purchased online at www.mouseriverplayers.com or at the theater on performance dates. The box office opens one hour before show times.

Mouse River Players, located at 115 1st Street SE Minot, is a totally volunteer community theatre. Your support and participation helps us bring stage performances to the Minot community and surroundings. Please contact us through info@mouseriverplayers.com for how you can be a part of the magic of live theatre!