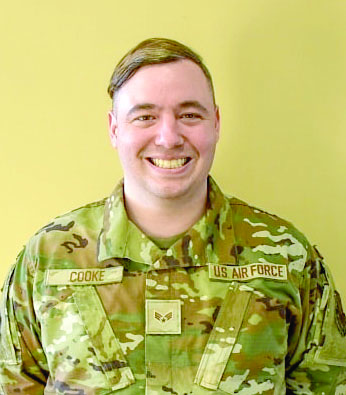 JOINT BASE SAN ANTONIO-LACKLAND, Texas — The Air Force Services Center recently announced the winners of the 2023 John L. Hennessy Trophy Awards for best dining facilities across the Department of the Air Force.

The annual awards program, established in 1957 and managed by AFSVC, recognizes the top dining facility operations in each of two regions, as well as the best in Air Force Reserve Command, small site award and missile feeding operation.

Earlier this year, four teams of Hennessy evaluators went on the road to get a closer look at the finalists to determine those that best demonstrate excellence in management, force readiness support, food quality and production, employee and customer relations, and training and safety awareness.

The three-person evaluation teams consisted of food service experts from the National Restaurant Association and AFSVC.
"While visiting this year's finalists, we were extremely impressed with the caliber of personnel working in every dining facility. You could tell both military and contractor team members from the nominated bases take great pride in preparing and serving amazing, nutritious meals to the Airmen protecting our great nation," said James Gill, Food 2.0 Portfolio Management chief and evaluation team member.

Congratulations to this year's winners:
Region 1 (East): 39th Force Support Squadron, Incirlik Air Base, Turkey, U.S. Air Forces in Europe
Region 2 (West): 374th FSS, Yokota AB, Japan, Pacific Air Forces
Air Force Reserve Command: 512th Memorial Affairs Squadron, Dover AFB, Delaware
U.S. Air Force in Europe Food Service Small Site Award: 703rd Munitions Squadron, Volkel AB, The Netherlands
Air Force Global Strike Command Best Missile Feeding Operation: 5th Bomb Wing, Minot AFB, North Dakota

"The Hennessy Awards program is an important avenue for us to recognize the dedication, innovation and expertise of our Airmen, Guardians and contractor teammates in the culinary arts on behalf of the DAF," said Brian Roush, AFSVC executive director.

"Whether at a smaller location or one of our larger operations, I continue to be impressed with the dining facility teams that serve our patrons every day."

In addition to selecting the best units, evaluation teams chose individual superior performers to attend advanced training later this year at the Culinary Institute of America campus in San Antonio, Texas.

"The individuals selected as a Hennessy Traveler go above and beyond in performing their duties. They exhibit tremendous dedication to their job and positively impact both their coworkers and DFAC guests through their commitment and dedication to the food service mission. They are the best of the best," Gill said.

Following the training, one of these Airmen will be chosen as the overall 2023 Top Hennessy Traveler Award winner:
Region 1 HTA nominees: Airman 1st Class Vheronica Guevarra, Eglin AFB, Florida; Airman 1st Class Freddy Montenegro, Little Rock AFB, Arkansas; and Airman 1st Class Aminah Craig, Hurlburt Field, Florida

Region 2 HTA nominees:
Staff Sgt. Randy Reel, F.E. Warren AFB, Wyoming;
Airman 1st Class Kaleb Cook; Kadena AB, Japan; and
Airman 1st Class Milan Lomibao, Yokota AB, Japan

MAFFO HTA nominees:
Staff Sgt. Shaylynn Wisehart, F.E. Warren AFB, Wyoming, and
Senior Airman Kevin Cooke, Minot AFB, North Dakota
Small Site HTA nominees: Staff Sgt. Malik King, Kleine Brogel, Belgium

"Working with industry restaurant professionals and culinary experts, not only with the Hennessy but also in various other lines of effort, is an invaluable part of our food and beverage program," said Jim Krueger, chief of DAF Food and Beverage, Policy, Procedures and Strategic Initiatives Division at the AFSVC. "It definitely helps our DAF food service evolve and keeps us ahead of the game by looking to industry and learning from their best practices.
"It's a winning partnership for our Airmen, Guardians and families."