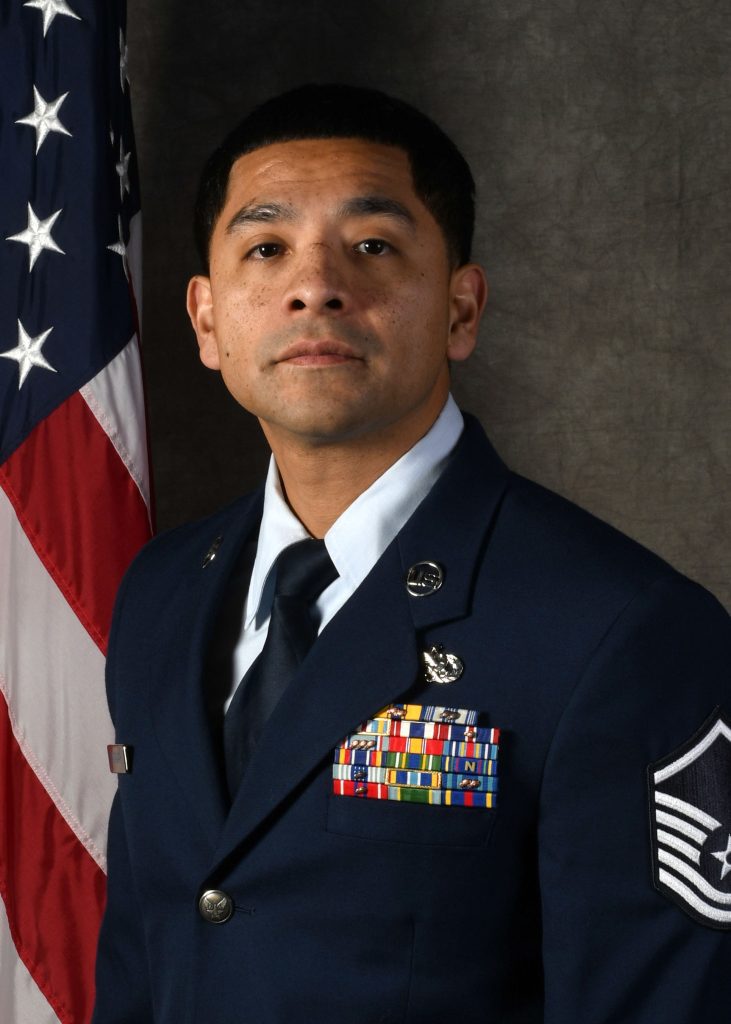 MSgt. Richard Baltazar
Hometown- Los Angeles, CA
Wife- Amaris
Family- Daughter, Brenee, 16, Son, Elijah 13

"I'm grateful and eager to start my journey as a First Sergeant. Mentoring and helping others in need has always come natural to me, this position can help showcase my helping nature. I hope to have a positive impact on Airmen's careers and lives."

For Master Sgt. Richard Baltazar, his path to First Sergeant was started in part by a former First Sergeant, and part by a Flight Chief, Senior Master Sgt. Todd Armstrong, while he was stationed in Korea. At the time, Baltazar's family had already been moved to his next duty station, Hickam Air Force Base in Hawaii.
"My wife was 25 weeks pregnant and had a routine sonogram at Hickam AFB. She called me and told me that they couldn't hear the babies' heartbeat anymore. I went to work, and my Flight Chief recognized that I wasn't myself. He took it upon himself to ask me multiple times, and finally he took me in his office and asked again. He had been a former First Sergeant and was trained to notice slight changes in personality. I just wanted to get it off of my chest, so once I told him the story, he was able to find a way to get me back to Hickam and my wife. The next day my wife had a DNC, and I was there. Once I got settled into Hickam, I called SMSgt. Armstrong and thanked him for what he did. He said that all he wanted was for me to pay it forward."

And Baltazar did find that opportunity at his next base, Spangdahlem Air Base in Germany.
"It was 2018, and at Spangdahlem there was an assistant First Sergeant position available, so I interviewed for the position and got the job," according Baltazar. "I held that position for 18 months." Fast forward to Minot AFB and 2023 where Baltazar graduated for the First Sergeant Academy and started his new position on Monday, April 3rd.

Baltazar joined the Air Force in July of 2008. Originally from Los Angeles, he finds the weather to be a bit colder than he had thought, but in general he likes Minot and the base.

For most of his career, he has been in aircraft maintenance. "[I have spent my career] maintaining ejection seats on some of our finest aircraft," explained Baltazar. When asked about ejection seats on a B-52, Baltazar explained that there are six.
For a First Sergeant, the job is 24/7, but as Baltazar explained, "You need to find the proper balance. I am in the office from 7 AM to 4 PM, but when I walk out the door I am always on call. I do know that when I leave the office, my main focus has to be my family. Still, my family knows what I signed up for, and that a phone call can change what we are doing."

Baltazar was quick to point out that he can always lean on his "amazing Flight Chiefs to help out if I need them. They know the personnel, and everyone wants to help out if needed."

First Sergeant is a controlled tour for four years, with an option to extend another two. Baltazar may end up remaining in Minot for the balance of his time as a First Sergeant. But, he explained, "They may move me. It's a situation of wherever the Air Force needs me."

Baltazar is currently assigned to the 891st Missile Security Forces Squadron, despite his background in maintenance. "They want you to experience something different. Then in 12-18 months they rotate you somewhere else."
According to Baltazar, "I grew up helping people. It's just what I learned to do."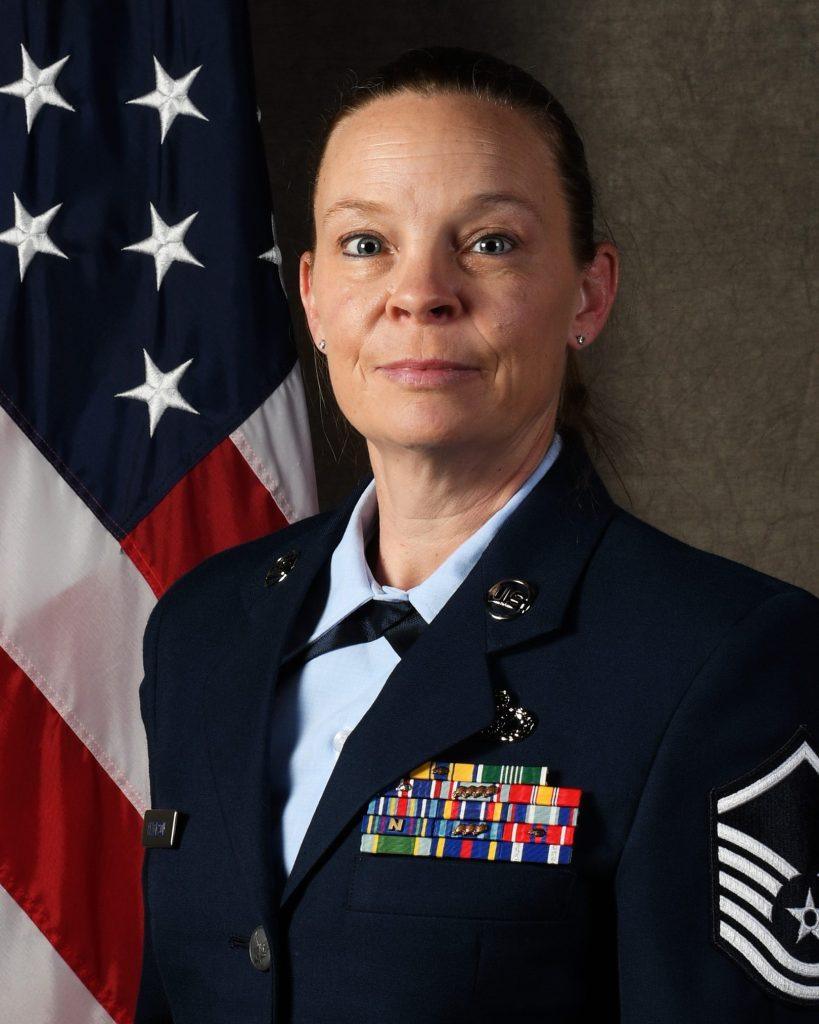 MSgt. Renee Helgeson
Hometown- Johnstown, PA
Spouse- Gaylen
Renee and Gaylen have 4 Puppies

"I wanted to become a First Sergeant to pass on the knowledge and encouragement that I have received from my previous leadership teams. I also believe that I have a lot of negative and positive life experiences that others can learn and grow from. My goals for my time as a First Sergeant are plentiful. The most important ones are to help as many people as possible as well as ensuring that people are treated fairly and with the dignity that we all deserve. I couldn't be happier and am honored to serve as a First Sergeant in the Air Force. I believe that it is the perfect job towards the end of my career that will culminate everything that I have been able to learn and share with every Airman possible. I hope that I am able to strive every day to do my absolute best and exemplify those that came before me and leave an impression for those to follow."

For Master Sgt. Renee Helgeson, a plumber by trade in the Civil Engineer Squadron at Minot AFB, her incentive for staying in was to never give up on her goal of being a First Sergeant during her tenure in the Air Force. She joined the military in 2004.
It was in 2011 that Helgeson developed a drinking problem that led her to seek treatment with ADAPT (Alcohol and Drug Abuse Prevention and Treatment), which by her own admission, did not got well at first. "It really should have been the end of my career, but I had guidance from an amazing First Sergeant," she said. "He was there to make sure that I wasn't drinking, things got better and then I PCSd to Minot," according to Helgeson.

"All through my Air Force career, I had run into some First Sergeants who were not great, and others who were amazing," says Helgeson.

Her tenure in CE would be the final encouragement she needed as the two command teams she work for, led by Col. David Dammeier and Col. Matthew Altman, encouraged her to achieve the rank of Master Sgt., which would allow her to take the next step and apply for First Sergeant.

As an Executive for the 5th Civil Engineer Squadron, she would meet then First Sergeant, Senior Master Sgt. Sergio Gonzalez. "I watched how he handled his job, how he dealt with the really ugly situations and maintained his composure. I told him that I didn't think I would be able to do what he was doing. But he assured me that I certainly would be able to handle those situations if I was a First Shirt. I wouldn't trade those moments for anything."

If it were up to Helgeson, she would remain in Minot for her full four-year tour as a First Shirt She continued, "but it looks like I may be headed back to Germany. I don't have orders yet, but it would be okay. And then most likely I would probably retire, and we return to Minot after that."

Helgeson said you have to want to be a First Sergeant in order to take on the responsibility. "It's all about serving the Airmen. I always want to do the best by my Airmen. You need to give everything you've got for the Airmen in your squadron."
And her advice to others who may be thinking about the First Sergeant role? "I would advise them to shadow a First Shirt in a squadron outside of their career field, because you pretty much know how it works in your squadron."

Helgeson estimates that she is the First Shirt to around 240 Airmen. "It was daunting at first, but I have been groomed to handle being a First Shirt, and I've definitely grown into the position."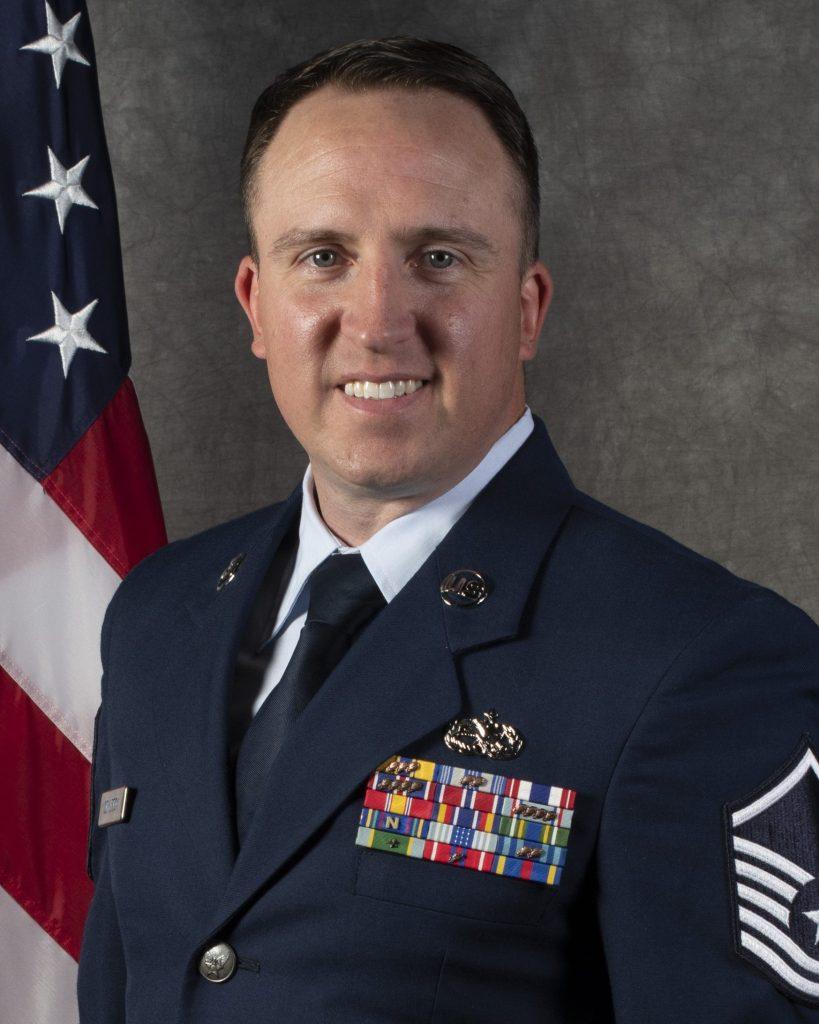 MSgt. Evan Oehlbeck
Hometown- Rochester, NY
Spouse- Megan

"Becoming a First Sergeant in the United States Air Force has been a career goal. At my first duty station, Tyndall Air Force Base in 2006, I remember the leadership, professionalism, and compassion of the Shirt and that always stuck with me throughout my career. Having that kind of impact is an awesome responsibility. The trials and tribulations that people experience both in their personal and professional lives while serving on active duty can take a toll. Airmen need a confidant with a wealth of knowledge and experiences, and I am eager to be a servant leader in that role."

Master Sgt. Evan Oehlbeck was alone in Korea and worried. Worried because he had no idea what his next base assignment was going to be. Alone because it was only his second duty station after being stationed at Tyndall Air Force Base. It was a First Sergeant, MSgt. Carter, that reached out with some words of encouragement. "The First Sergeant talked to me and walked me through what it would take to get through the situation. "He gave me some of my first resiliency tools" said Oehlbeck. Although Oehlbeck did not have his journey completely charted out at just that moment, he knew that someday he would like to be a First Sergeant and help a young Airman just as he was helped. "What I learned is that you aren't always going to understand life, and what it throws at you. Some situations are difficult. As a First Sergeant, I want help [the younger Airmen] in a good capacity, because I've been there," said Oehlbeck.

His journey would take him back to Tyndall AFB, where he would eventually meet his wife, Megan, but there was no happily ever after scenario quite yet. There would be a divorce from his first wife and a return to Korea, once again without a follow-on assignment. It was during his second assignment in Korea where he thankfully had council from an old supervisor Chief Master Sgt. Jennifer Jones. "The Air Force was going through a strange time at that point following the ERB, none of my follow-on choices went through and I would once again have to wait nine months to find out where I would be going next." It left the Air Force with an option, and that option would be to send him, and his wife who is originally from Alabama, to Minot Air Force Base.
"[Minot] was not on my EQUAL listing. I honestly was ready to quit, go guard or reserve, but CMSgt. Jones talked me down off the edge. She said that if I made that decision [to quit], I would regret it. She said that later in life I would thank her, and she was right." Oehlbeck tells the story of arriving in Minot, and driving to Walmart in September of 2018 when it started to snow. "My wife broke down and cried." But better days were on the horizon as MSgt. Oehlbeck accepted a deployment to Guam, and he was able to bring this wife along. Next, he became the Wing Level Weapons Safety Manager, a job he really enjoyed. It was while in this position in the Wing Staff Agencies he had the opportunity to be a full-time First Sergeant.
MSgt. Oehlbeck figured that he had a large of amount of experience in dealing with life's difficulties. He had lived in the dorm whereby his own admission he got in a little bit of trouble. MSgt. Oehlbeck feels that the best First Shirts are those who have experienced the ups and downs of life and persevered.

The journey could have ended right there, but the story would not have been complete. Also in the journey, while being stationed here at Minot AFB, Megan would be diagnosed with stage 2 breast cancer. During the pandemic, the Oehlbecks have made several trips to Rochester, Minnesota, to Mayo Clinic as they have battled Megan's breast cancer.
"This summer we will PCS to Davis Monthan, where we will be only 90 minutes from a Mayo Clinic in Arizona. We need to finish the battle and being there is important for us."

So as MSgt. Oehlbeck puts on the diamond of a First Sergeant, he has some advice for someone looking at the journey to First Sergeant. "Becoming a First Sergeant is worth the trip. You're going to face sacrifices along the way. Sacrifice for the things you want in life, otherwise the things you want in life will become your sacrifice."