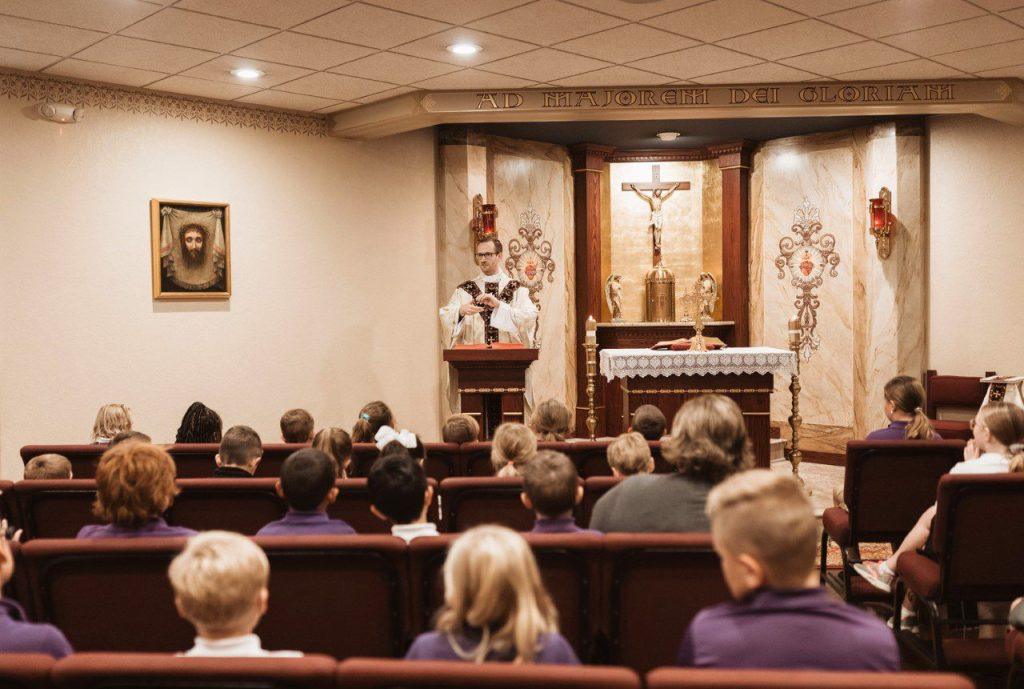 Education. It means more than schooling in a classroom setting. Education is discovering, asking questions, and training up a child in ways that will serve them later in life. Fr. Jadyn Nelson, President of Bishop Ryan Catholic School, explains his school's view of education like this: "We are very focused on instilling virtue in the minds and hearts of our students. This world takes a skeptical and unprincipled approach to morality, wherein the only defining characteristic of a 'good' behavior is that it didn't hurt anyone else. We are aware that this prevailing vision of morality is inadequate to inspire people to live flourishing lives and to build a foundation for happiness that is built upon solid foundations, not the superficial morality of our wider society."

Bishop Ryan Catholic School is located in Minot, right off HWY 83 as it turns into Broadway when driving from the base. The school hosts all grades, Pre-K through high school, and offers a wide range of activities, special opportunities and ways to encourage students to grow and learn in a God-centered environment.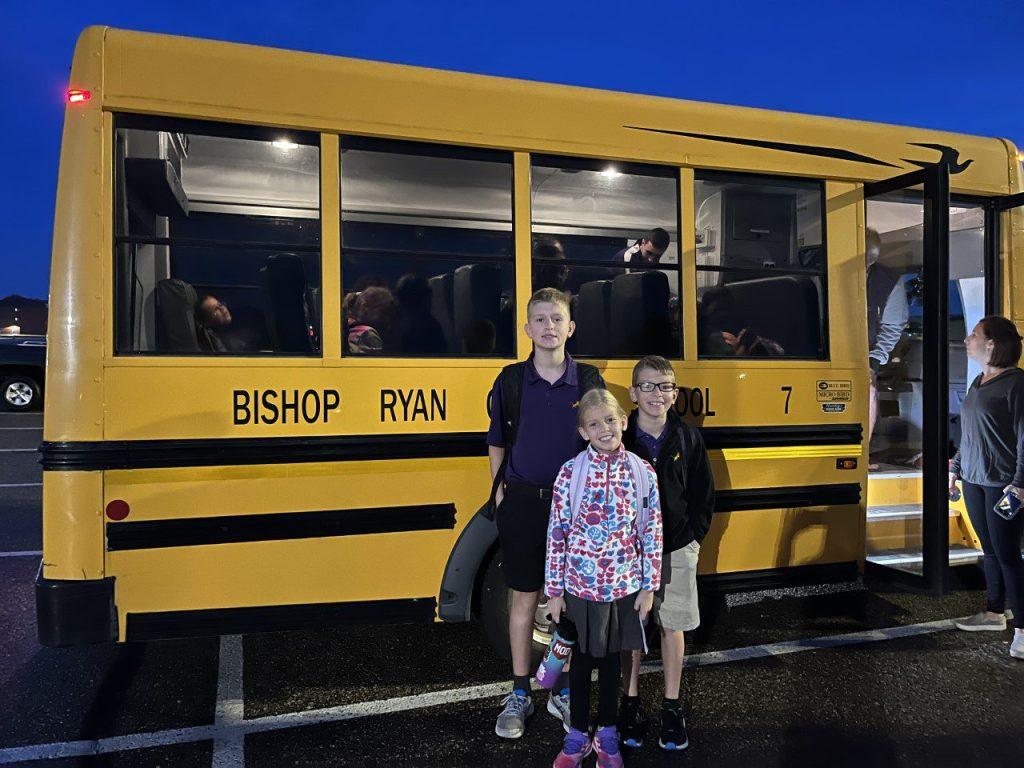 Although Bishop Ryan is "unabashedly Catholic," Fr. Nelson also explained that, "We believe that faith is always to be proposed, not imposed." He continued to clarify by saying, "We are open to working with any parents who buy-in to our vision of education. We have many non-Catholic families who are part of our school and love it. In order for faith to be authentic, a person must freely assent to what is proposed for belief. So we welcome non-Catholic families as an important part of our Bishop Ryan family and an opportunity for us to share with them what we find so compelling about being Catholic."

Military families looking for the right schooling option for their children should know that Bishop Ryan strives to create a "foundation for lasting happiness through education in virtue." Many families have already and currently enrolled their children at the school for this very reason. Nadine Hunt, a Bishop Ryan parent of two elementary age students and base resident, said, "When we first got here in summer 2020 (during the pandemic) it took the public schools here a very long time to decide if they would go back to in person teaching or not. Bishop Ryan was faster and had a plan for in-person class on hand. We toured the school, liked what we saw and haven't regretted it. We also do like the smaller classes and the Catholic education."

Amanda Adrian, another base Bishop Ryan parent, explained why they choose and love the school saying, "From our first call to the school when we found out we were moving to Minot to now, we have felt welcomed by the school. They were excited that we were interested in the school and worked with us to figure out the best placement for our daughter. We've felt welcomed by the families as well. We already know we will miss Bishop Ryan and their school community when it's time for us to move."

Another MAFB & Bishop Ryan parent responded with similar positive feelings towards the school. Lisa Wheeler said, "I love that I can go into the school any time I want to have lunch with my kids or to meet them at their classrooms at the end of the day."

While most parents interviewed had elementary aged students, the upper grades also have unique opportunities at Bishop Ryan. High school students have the ability walk right across the street to UND and take dual credit classes, which is a huge opportunity for students and their parents alike.

Military families that live on base may be concerned about the time-consuming drive if their child attends Bishop Ryan; however, the school has recently worked with some base parents and they can now offer a morning bussing system from the base. Utilizing the bus does have a per student fee, but Fr. Nelson said they and the families have loved this opportunity and hope to continue the service in the future. Parent Maurina Renda said, "I love the bus from Minot AFB. It gives me more time in the morning to get ready for my day after ensuring that my children are ready for theirs"
Additionally, Bishop Ryan offers a military scholarship and other scholarship opportunities for those who may need or want assistance with tuition costs.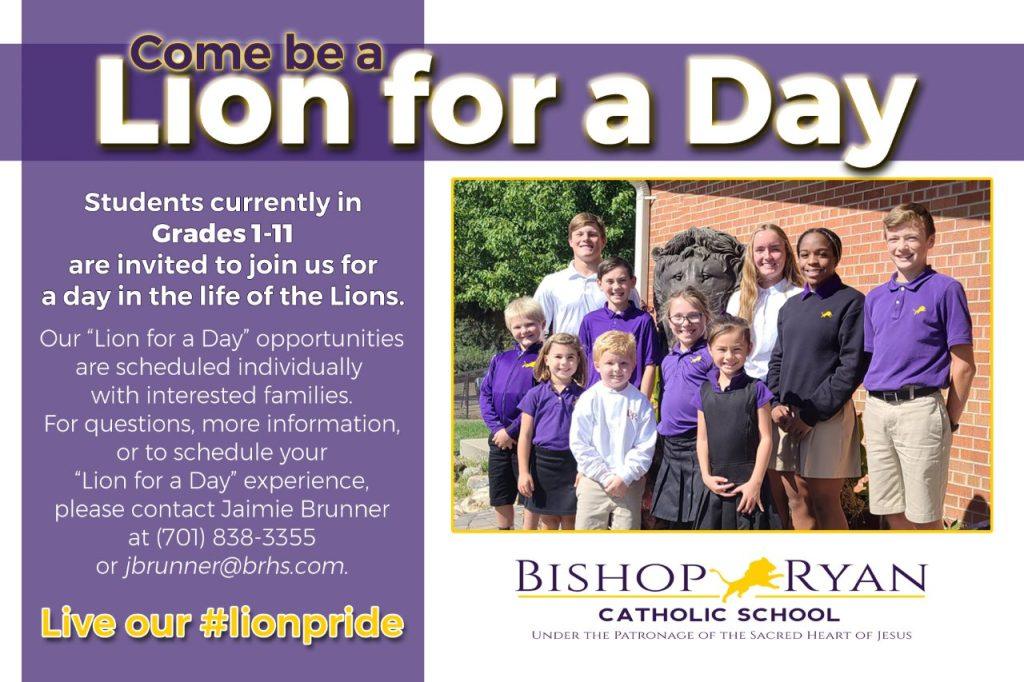 Fr. Nelson explained that the school is filling up very quickly and they have begun a master plan to expand and build a new campus or building to accommodate the growing classes. Even though classrooms are filling, Jaimie Brunner, Bishop Ryan Enrollment Director, is available to speak with prospective families for enrollment this coming school year. The school presents a "Lion for a Day" program in which students can come to a class and participate, meet the students and teachers and discover what it would be like to attend Bishop Ryan. Additionally, Fr. Nelson even said that they work around work schedules and have campus tours whenever it is convenient for the family. He said, "They can schedule a tour of our campus and receive that packet as part of their visit, too, and because we know that moms and dads are busy, we try our best to have tour times available outside of the traditional work day, upon request."

Ultimately, education is a family choice based on circumstances and beliefs. Bishop Ryan strives to be an institution that teaches more than fact figures, but to expand minds and truly engage students. Fr. Nelson said, "In our school, faith and reason work together to help students to discover and explore all of reality, not just what can be measured and tested by the scientific method, although we do that too. We help students to escape the materialist narrative that holds sway in wider culture today and to discover that they are more than first meets the eye."