MINOT AIR FORCE BASE, N.D. – Minot Air Force Base put on their annual Halloween celebration, with various organizations hosting events like Trunk-or-Treat, a Zombie 5k race, Trail of Terror and a Spooky-Con. The events are put on by volunteers for the servicemembers and families of Team Minot throughout the month of October and help bring in "Spooky Season" with style.
During the Trunk-or-Treat, hosted by members of the 91st Security Forces Group, volunteers decorate the trunks of their vehicles with creative displays, handing out candy to the children of Team Minot's families. Along with active-duty volunteers, off-base businesses contributed by donating pumpkins, funds, and candy to the trick-or-treaters.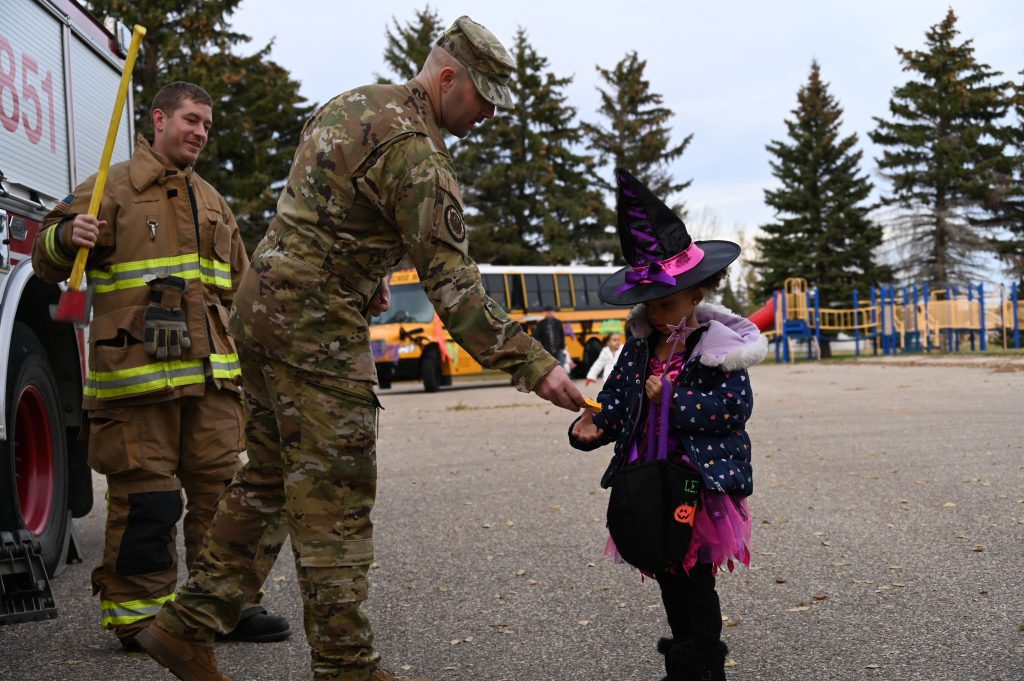 "My favorite part of the event was coordinating with the off-base businesses that helped support this. It solidified how close knit the base and local community are and their willingness to support each other," said Master Sgt. Lauren Collins, 91st Missile Security Operations Squadron flight chief.
"After coming out of the Covid pandemic the past two years, the abundance of families that came out to enjoy a family-friendly activity was fulfilling. I feel it's what was needed. We provided candy to over 2,000 people ranging from costumes of Harry Potters to a baby chicken!"
The Trail of Terror, organized by the 5th Medical Group, had all three floors of the 5th MDG facility decorated with a variety of themed displays. The participants were led through each display, collecting candy, laughs and some scares along the way.
"My favorite part about our annual Trail of Terror event is seeing all of the excitement on the kids' faces as they made their way through our building," said Tech. Sgt. Ariel Venne, non-commissioned officer in charge of the Medical Treatment Facility Personnel Reliability Program. "Depending on which floor you were on, you might have seen some minions running around, Jack Sparrow and his ship, the Scooby-Doo crew, or even a T-Rex on the loose."
The Zombie 5km race was put on by the 5th Force Support Squadron, who contributes year-round to quality-of-life programs at Minot AFB. Volunteers dress as zombies, chasing after the racers who compete for prizes like fastest runner and best costume.
"It is important to hold events like this to build morale around MAFB, as well as promoting comradery around the base and within squadrons," said Senior Airman Alexandra Guidry, a 5th FSS fitness specialist.
Another event put on by 5th FSS was Spooky-Con, a family-oriented series of events that included festive activities and games at the Community Center, Haunted Stacks and crafts at the library, and a Trunk-or-Treat with volunteers from FSS and the Fire Department.
All the events are made possible by the volunteers donating their time, effort and candy to the Airmen and Families looking to celebrate Halloween.