The Weather Channel named it Winter Storm Silas. AccuWeater called it a 'Historic Blizzard', saying this has been "one of the state's highest snowfall estimates… the storm was recorded in Minot at 36 inches." To us here on Minot AFB, many families are referring to last week's storm as the "craziest thing we have ever seen!" Almost all base residents, as well as most Minot citizens were relegated to their homes from the evening of Tuesday, April 12, until Friday/Saturday afternoon. Even when snow plows became available and driveways and roads were clear, many businesses and base organizations still remained closed. Being closed to base residents for 3.5 days, the Commissary did not open again until Saturday. The complete white-out conditions caused roads to be extremely dangerous and snow drifts to rise to over 8 ft in some areas. All throughout base housing residents were stuck in their homes, unable to even get out of their driveways. Minot AFB Homes and the team of workers from XS Dakota worked tirelessly day and night plowing streets and driveways in order to get residents free. Community Director Marcie Heller even put out 1-3 daily emails and social media posts out during the crises informing residents about plans and progress for snow removal, but the unprecedented snowfall on Wednesday made it almost impossible to keep up. Everyone was working as hard as they could to help.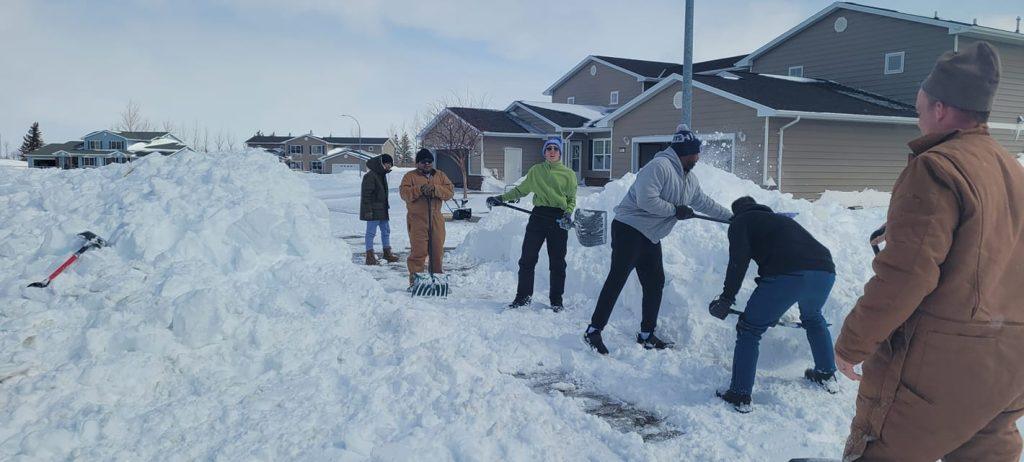 Despite the challenges, many base residents were able to find ways to shovel out and all over base neighbors helped each other. Photos of neighbors helping neighbors popped up all over the Minot AFB Spouses Facebook pages, including a group of neighbors working together to create a path so that one car could be free to go make a store run for everyone. (photo 1) Another base resident, Kelly Phelps, looked out her window and snapped a photo of a bunch of people helping a stuck vehicle. "My husband was out shoveling to dig us out and at that point, the plows hadn't come through. The Airman in [the] truck was called into work and the road appeared to be clear, but he couldn't pass through and unfortunately got stuck. My husband and other neighbors rushed out to dig him out!", said Kelly. (photo 2)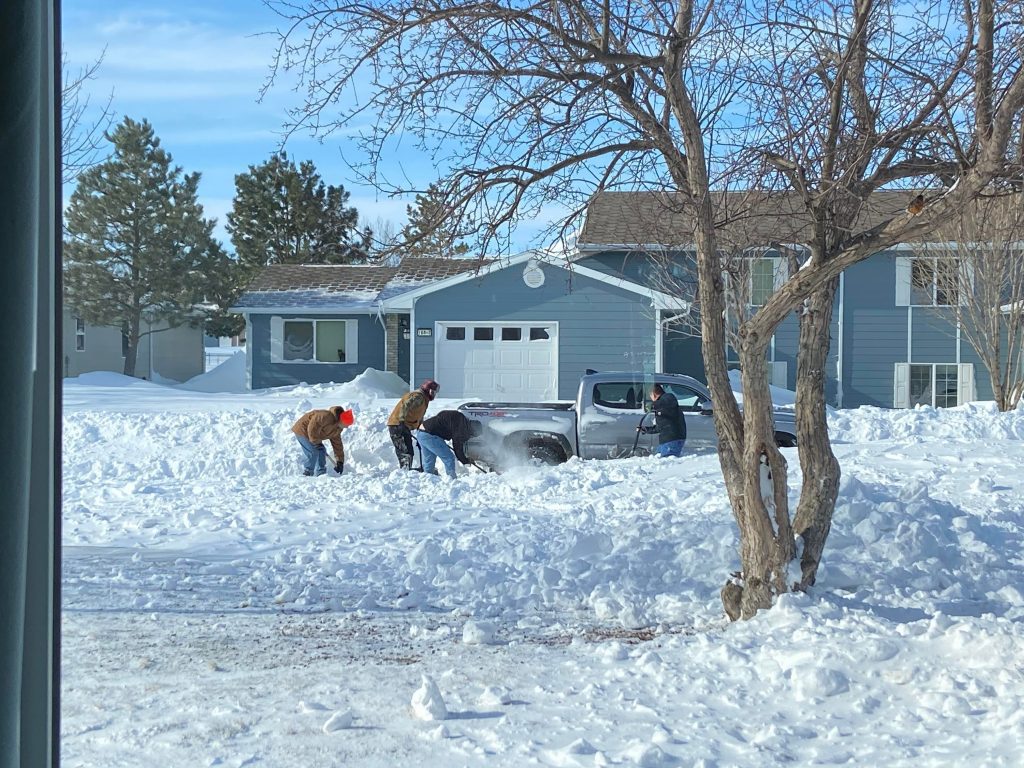 As most of the base completely shut down for days, the Missileers, Facility Managers, Food Service Technicians and Security Forces members out at the missile fields, were stuck as well. The 791 MSFS commander, Maj Zachary Hunt, who was in the field with his Airmen throughout the blizzard, mentioned that when the Airmen posted out started getting weather alerts, they realized it would likely mean a few extra days in the field away from family and loved ones. However, Maj Hunt said that most everyone remained positive and upbeat about the situation. He said, "The Dark Horses 'saddled up' per their motto and embraced being on the line in the most challenging time of the year. People also recognized that even being home would not be a walk in the park as Minot AFB got pummeled by the weather as well. Attitudes and professionalism remained top notch." While it was a different than normal missile tour, Maj Hunt said everyone did a bunch of snow shoveling and it ended up being great exercise too. The Airmen pictured in the (photo 3) are Capt Bryan Galcik, 91 OSS, Capt Brice Fields, 91 OSS, A1C Jonah Fouts and Amn Abner Sanchez, 791 MSFS/S3OC, who are "holding the line" as a remembrance from the April Blizzard of 2022. Maj Hunt said it was a good reminder that " All SF teams must be ready to deter, detect, deny, defend and defeat any threat in any weather condition day or night." He also noted that the same thing applies to the Missileers where the strategic deterrence never stops.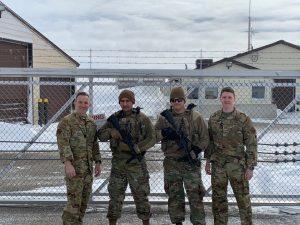 Society seems to sometimes dictate that when faced with overt challenges, most people will revert to helping themselves, but this storm has proven that to be the opposite. From families here on base helping neighbors dig-out driveways to the Airmen in the Missile field standing strong, on Minot AFB it is proven that people help each other out when in time of need.